Brophy offense impresses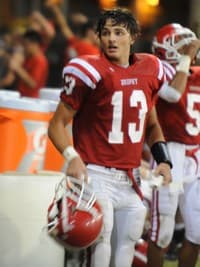 The Beginning of September brought an end to the hottest month on record in Arizona. Still at the Anthem Boulder Creek versus Phoenix Brophy Prep match-up Friday the temperature was in excess of 100 degrees for the 7 p.m. kickoff.
The heat, along with injuries, contributed to a somewhat surprising shootout taking place as the Brophy Broncos defeated the Jaguars of Boulder Creek 45-33.
The injuries had Brophy missing some valuable two-way performers such as juniors
Marche Dennard
(foot) and
Robert Relf
, who left the game in the first quarter after a probable concussion.
Junior wide receiver
Devon Allen
was one of Brophy two-way standouts on the night.
"I think as a team we played very well," Allen said. "We had a couple of our guys going both ways all night but nobody was complaining about it. It wasn't too bad [with the heat]. We had a few guys cramping up but we were okay overall."
Brophy started out fast, Allen returned the opening kickoff 60 yards and a few plays later quarterback
Tyler Bruggman
connected with
Frederick Gammage
from 19 yards out to make it a 7-0 Brophy lead with 10:27 left to play.
Boulder Creek went three-and-out on the ensuing possession. However, a bad snap on the punt resulted in an incomplete pass and on first down Bruggman again hooked up with Gammage, this time from 11 yards out to give Brophy a 14-0 lead with 8:34 left.
Boulder Creek responded on its next two drives. Quarterback
Trevor Bonafasi
scored on a 14-yard run to cut the lead in half. After getting the ball back from Brophy, the Jaguars executed a well designed fake reverse that saw wide receiver
Marquis Bundy
connect with a wide open Bonafasi for a 29 yard score. The PAT failed, making the score 14-13 Brophy.
It was as close as Boulder Creek would get on the night.
At this point Brophy turned to its running game. Junior
D'Amani Grayer
, filling in for injured
Marche Dennard
, ran well behind a good Bronco line led by junior
Charlie Renfree
. Grayer scored on back-to-back possessions. The first, from 14 yards, and the second on a 5-yard run as Brophy extended its lead to 28-13, which it took into the half.
"Our guys came out and blocked well all night," Bruggman said. "We ran the ball well and it's great when they block like that and there is time for me to find our athletes down the field."
Brophy came out of the half strong as Bruggman hooked up with Allen on a 59-yard score to make it 35-13 with 9:14 remaining in the game.
Boulder Creek did not lay down, Bonafasi and the offense quickly responded and junior running back Stephen Landeros scored lest than a minute later from 28 yards out to close the gap to 35-20 with 8:40 left in the third quarter.
On the next drive Brophy had the ball at midfield but on a 4th and 1 decided to punt. The plan appeared to work as Boulder Creek was pinned deep in its own territory. However, Bonafasi was not quite done. He led the offense down the field and scored on a 3-yard run with 1:38 left in the game. However, the PAT was blocked and the Jaguars still trailed by two scores 35-26.
Brophy took the ball and moved the ball into the red zone but after a touchdown was called back because of penalty, the Broncos had to settle for a 31-yard field goal by senior Zach Hudson to make the lead 38-26.
Bonfasi refusing to let his team quit scored on a 64-yard run to pull with 38-33.
That was as close as the Jaguars could get and with 8:22 left in the game Grayer added his third touchdown of the night when he scored from a yard out as the game reached its final score of 45-33.
Brophy Analysis
The Broncos have one of the most talented rosters in the state. The offensive line played very well Friday night. Renfree is a good looking prospect. He has good size and athletic ability for an interior linemen. He also plays technically sound and has regularly demonstrated a strong work ethic. Look for him to garner a lot of interest from FBS programs.
Bruggman is one of the top quarterbacks in Arizona regardless of class. He has a good arm and is very accurate. His line gave him time most of the night and he demonstrated good decision making and the ability to make plays outside of the pocket. He has already been offered by Colorado State and received interest from several major programs.
Allen is a name that people are only going to hear more and more about. He has excellent speed and is already a good route runner with above average hands. He is one of the top track athletes in the West. He has received a lot of recruiting interest for track and was offered by Stanford for football last weekend. He, Bruggman and Renfree should be among the top ranked recruits in the state next year.
Grayer (139 yards and 3 TDs) had an impressive game. Yes, the line opened up a lot of holes but he showed excellent feet and open field ability. He impressed at the Phoenix Under Armour Combine last spring as a cornerback. Long term that is still probably his best position but he showed Brophy that he is more than capable of replacing Dennard at running back.
Gammage is a valuable weapon for Brophy. He was one of the Broncos best receivers last year when a rash of injuries caused him to become the starting quarterback for the last few games of the season. Now back at receiver he seems primed for a big season. He should receive interest from FCS programs.
Jake Faust
, as senior safety, had an eye opening performance. He's a solid athlete who made several big hits on the night, including the one that knocked out Relf for the night. He is a sleeper prospect who could be a surprise recruit this cycle.
Junior linebacker
Andrew Curtis
had a strong game with 14 tackles. At 6-foot-2 and 210 pounds he could be viewed as an outside linebacker or safety by colleges. His father Scott played wide receiver at Arizona State.
Sophomore defensive end
Nick Carovilliano
showed potential to be one of the top prospects in the state for the class of 2014. At 6-foot-4 and 215 pounds he has the frame and athletic ability to play end or even grow into a tackle down the road. Definitely a name to remember.
Boulder Creek Analysis
We really can't say enough about the job Bonafasi did Friday night. He made plays with his feet, arms and hands. His size will probably keep him from getting major offers but he is currently one of the most underrated players in the state in our opinion. His presence alone will make Boulder Creek an opponent no team will want to face in the playoffs.
Senior lineman
Austin Farnlof
is a good looking prospect. He already holds offers from Air Force, North Dakota and South Dakota State. He will surely add more offers as the season progresses. He could play on either side of the ball but seems to be better suited as an interior offensive linemen.
Bundy is one of the top wide receivers in the state. Northern Arizona has offered and he should be an attractive recruit because of his 6-foot-3 frame. He may lack top end speed but his hands are good and he runs routes well.
Junior cornerback
Ryan McKinley
had an up and down game but battled all night with the strong Brophy receiving corps. He has good size at 6-foot-1 and 180 pounds and is probably best suited for safety in college. He should be an FCS level recruit in 2013.
Junior WR/DB
Isaiah Huston
and sophomore DB/WR
Tyler Whiley
are both good looking prospects. They should be develop over the season into playmakers for the Jaguars who are one of the better up and coming programs in Arizona. Whiley looked adept on both sides of the ball and has a nice frame. The more you watch him the more his athleticism becomes evident.