Discovery Camp for Girls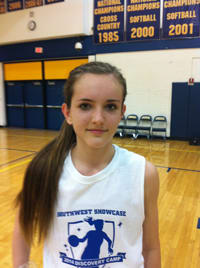 On March 8th ArizonaVarsity attended Ron Coleman's Discovery Camp for Girls at Phoenix College in Phoenix (Ariz.).
Every girl played two games to show off their skills plus had a free throw and three-point contest.
This was a chance to see the incoming talent and the younger stars for the future.
Here were the top 12 players in attendance
5-foot-8 PG 2017 Lauren Satterwhite attends Gilbert Christian. Satterwhite may have only played one game on the day, but showed her explosion to the basket, tight handle and defense. She can score from the perimeter with a streaky shot, but she will find herself in a D-1 school after HS.
6-foot SF 2018 Cailtin Bickle will attend Cactus Shadows next year. Bickle looked like the top 8th grader on the day. She showed off her ability to shoot from the arc and handle the ball well for her size. She needs some work with her back to the basket, but is already a scoring machine and looks like a D-1 prospect also.
5-foot-8 PG 2018 Tayior Chavez will attend Valley Vista. She can score from anywhere on the court. She isn't done growing and may end up a 6-foot PG with a deadly shot and terrific handles. She has solid vision and a tight crossover plus can score on floaters inside the paint. She has to get stronger moving forward.
6-foot-1 PF 2017 Denise Strover attends Fairfax. Strover is a strong thick power forward with a knack for rebounds. She also can shoot from mid-range, but has a flat shot and needs more arc. She fights with anyone down low and can block some shots as well. She moved to Arizona from Colorado.
5-foot-10 PF 2017 Diamond Fuller attend Mesa. Fuller was the pleasant surprise of the day. It took about five minutes to realize she has talent. She is terrific down low as she catches passes and scores efficiently. She grabs rebounds out of her area with a really long wingspan, but needs to get stronger moving forward. She also happens to be the sister of college player Aaron Fuller from USC. Fuller has a high upside.
6-foot C 2017 Kiara Edwards attends Valley Vista. Edwards was one of the strongest players in attendance. Once she gets the ball in the paint, she scores at a very high rate. She also rebounds really well in her area and carves out space with her strength and girth. She has to improve her range and natural handle to reach her potential.
5-foot-4 PG 2018 Shaylee Gonzales will attend Mesquite next year. Gonzales is small but has a deadly shot with deep range and can make plays for others. She won the three-point contest with ease and continued it in the games with six threes on the day. She also can set up her teammates when needed to. She clearly has to get stronger, but possesses a lot of talent.
5-foot-10 PF 2018 Alana Kelley will attend Xavier Prep next year. Kelley was another decent surprise. She was one of the most efficient scorers in the post. She can rebound at a decent rate and fights on defense.
5-foot-6 CG 2018 Lindsey VanAllen will attend Mesquite next year. VanAllen had the deepest range at the event. She can hit shots comfortably from 22-feet. She also can slash to the hole and score, but is normally a shooter. She can make plays for others, but her first instinct is to score.
6-foot-3 C 2017 Jalisa Ingram attends Coconino. Ingram was the biggest player in attendance and is very strong. She is hard to move down low, but is slow and needs to improve her skill set. She rebounds well in her area and it will help her to get faster and agile to be more of a fluid player.
5-foot-8 SG 2018 Maddie Frederick will attend Hamilton next year. Frederick is a great spot up shooter and she won the free throw contest. She also shows some handle with some nice drives to the hole. Frederick has a sturdy build to score in the paint and has nice potential.
5-foot-6 SG 2017 Georgi Pregulman attends Xavier. Pregulman is another outstanding shooter who needs to work on other aspects of her game to keep improving.