Bear Raid
Basha gave fans plenty to cheer about during 2018 turnaround
WEEKLY BLOG: 8/19/19
As we get set to begin a new high school football season (this week!), the theme around many programs is that of hope and optimism. Every team is 0-0. Every team has a chance. At Basha, the success of last year fuels those feelings into believing them even more.
A year ago at this time, Basha was coming off a 2-8 season that saw several players leave the program. A new coach, Chris McDonald, was stepping in. The record from 2015-2017 was a combined 9-21. Not many from the outside foresaw a turnaround to a winning year.
But, that's just what these Bears did. They did something the school hadn't done since 2011 - win their first four games. They did something the school had never done - beat Hamilton (BHS was 0-9 all-time against the Huskies).
At 6-5, Basha had its first winning season since 2014. And the Bears don't plan to just stop there.
"We have a lot of speed on both sides of the ball," McDonald said. "We want to see if we can improve on last year."
Explosive plays are the goal for the Green & Gold this year and on offense, quarterback Gabe Friend returns for his senior season. Last year, he took about 70 percent of the snaps and threw for 1,838 yards and 14 touchdowns. In addition to having a good arm, the 6-2, 200-pound signal caller is athletic enough to extend plays and run. He's played the game of football since he was six years old.
Basha runs the spread offense and with that speed, it wants to get the ball out to its playmakers in space.
"We're going to try and throw the ball all over the yard," McDonald said. "Force the defense to make open field tackles."
The Bears did lose top wide receiver (and all-around athlete) Ty Sifferman to Grand Canyon University for baseball, but they bring back senior Camden Mateen, who made big plays all season long. Mateen averaged almost 20 yards per reception, had 603 yards, and scored eight touchdowns. Also valuable on special teams, he brought a kickoff back 99 yards in a win over Red Mountain.

Last season, Sifferman had 75 catches with the next-closest player grabbing 33. McDonald would like to see more balance among the distribution to keep teams off guard. He should have that with senior slot receivers Micah Harper and Zion Williams along with junior receiver Andrell Barney.
At running back, no returning player had more than 30 carries last season. The plan at the start is to distribute rushing attempts between Caleb Jones, Brayden Shambaugh, and Andrew Fernandez. Of the three, Fernandez is the senior (Jones and Shambaugh are juniors). The Bears will likely mix it up until one guy stands out from the rest.
On defense, the headliner is Harper. It's as a cornerback that he's being recruited and he holds offers from 23 schools, including Syracuse, BYU, San Diego State, and Wyoming. An excellent student (3.55 GPA/ACT score of 26), Harper also has Ivy League offers from Dartmouth, Penn, Princeton, and Yale.
Harper, who is 5-11 and 180 pounds, is a strong player that can bench 300 pounds. McDonald said college coaches like that he's physical, very good technically, and bigger in person than on his film.
Arizona Varsity's Cody Cameron had a chance to talk to Harper earlier this month.

Other impact players on the defense include senior linebacker Charles Gilbert, who led the team with seven sacks. Jones appeared in four varsity games as a sophomore last year, and is expecting to play on both sides of the ball at linebacker. Up front, seniors James Knos (nose guard and center) is one to watch along with senior defensive end Mike Sliskovic.
Last Thursday, Basha traveled up the Northwest Valley to scrimmage against Liberty. McDonald was anxious to see his team against opposition with a different color jersey for a change. He also garnered some positives from the evening.
"I like the way we competed," McDonald said. "Liberty has a real good chance of being an Open team. They're always physical and disciplined."
Keys for the Bears on offense in 2019 relate, of course, to the passing game and not being reliant on one player. Also, pass protection will be important to keep Friend upright.
"We need ball distribution to several different wide receivers," McDonald said. "Make the defense defend everyone, so they can't hone in on somebody."
Defensively, Basha improved last year from allowing 36.7 points per game in 2017 to a more manageable total of 26.6. While that is significant, it certainly leaves room for more if the Bears are to mark their territory further.
"Open field tackling," McDonald said as one of the keys on that side of the ball. "Playing with great technique. We're not the biggest group. We can go sideline to sideline, though."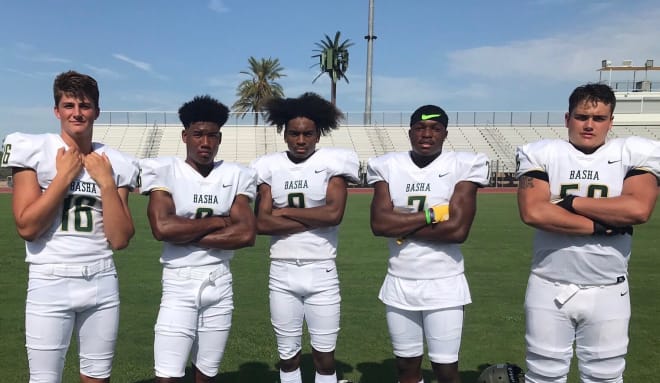 The schedule (identical to last year's) is unique in that the toughest games are on the back side. The focus for the opener this Friday at home against North is on execution. Basha won that meeting 54-0 in 2018.

McDonald said Hamilton will be another tough opponent, despite missing the playoffs last year. La Joya went 7-3 a year ago. O'Connor was right on the cusp of being a postseason team.
Five of the last six opponents did make the postseason, including the Chandler District duo of Chandler and Perry that have met in the last two finals. Because of the way everything lays out, McDonald said it's extremely urgent to make sure everyone knows their roles before the halfway point.
"We need to figure out a rotation and give our guys some breathers," McDonald said. "We want to have a plan because it gets harder as the year goes on."