EA SPORTS Natl Player of the Year: Chase Daniel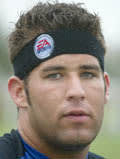 Foster City, Calif. -- Quarterback Chase Daniel from Carroll High of Southlake, Texas, has earned the national honor of being named the EA SPORTS Player of the Year it was announced today.
The worldwide leader in computer sports games teamed with the editors of Student Sports to determine the national honors. The annual EA SPORTS All-American teams will be announced next week.
Daniel is the third national player of the year from Texas since 2000, following University of Texas Rose Bowl MVP quarterback Vince Young of Houston Madison in 2001 and Longhorns' running back Cedric Benson of Midland Lee in 2000. Prior to Benson, though, the last previous national player of the year from Texas was NFL Hall of Famer Eric Dickerson of Sealy High in 1978.
A 6-foot-1, 215-pound University of Missouri recruit, Daniel led Southlake Carroll to a 16-0 record and the final No. 1 ranking in the Student Sports FAB 50. He directed a wide-open offense and repeated as the state Class 5A player of the year.
The senior amassed 5,550 total offense yards and 68 touchdowns. He completed 275 of 426 passes for 4,263 yards and 47 TDs with only 14 interceptions. Daniel also ran 228 times for 1,287 yards and scored 21 times himself.
In two years directing 47 wins in 48 games, Daniel totaled 10,882 total offense yards and 127 TDs. He rushed 499 times for 2,897 yards and 38 touchdowns. Through the air, he completed 506 of 776 passes for 7,985 yards and 89 scores.
"Chase is the best dual-threat guy I ever coached," said Southlake Carroll head coach Todd Dodge, an 18-year coaching veteran. "He's a leader and an athlete, first, and football player, second. He's very unique and not impressed with what he's done. He's a winner."
Daniel also is an outfielder-pitcher in baseball and is a member of the sprint relay team in track.
EA SPORTS NATIONAL HIGH SCHOOL PLAYERS OF YEAR
(Student Sports selections; retroactive from 1994 back)
2004--Chase Daniel, QB, Southlake, Texas, Carroll
2003--Jeff Byers, OL-DL, Loveland, Colo.
2002--Chris Leak, QB, Charlotte, N.C., Independence.
2001--Vincent Young, QB, Houston, Texas, Madison.
2000--Cedric Benson, RB, Midland, Texas, Lee.
1999--D. J. Williams, RB-LB, Concord, Calif, De La Salle.
1998--J. R. House, QB, Nitro, W.Va.
1997--Ronald Curry, QB, Hampton, Va.
1996--Travis Henry, RB, Frostproof, Fla.
1995--Tim Couch, QB, Hyden, Ky., Leslie County.
1994--Chris Redman, QB, Louisville, Ky., Male.
1993--Peyton Manning, QN, New Orleans, La., Newman.
1992--James Allen, RB, Wynnewood, Okla.
1991--Steve Davis, RB, Spartanburg, S.C.
1990--Derrick Brooks, LB, Pensacola, Fla., Washington.
1989--Robert Smith, RB, Euclid, Ohio.
1988--Terry Kirby, RB, Tabb, Va.
1987--Carl Pickens, WR, Murphy, N.C.
1986--Emmitt Smith, RB, Pensacola, Fla., Escambia.
1985--Jeff George, QB, Indianapolis, Ind., Warren Central.
1984--Andre Rison, DB-WR, Flint, Mich., Northwestern.
1983--Chris Spielman, LB, Massillon, Ohio, Washington.
1982--Rod Woodson, DB-RB. Fort Wayne, Ind., Snider.
1981--Marcus Dupree, RB, Philadelphia, Miss.
1980--Bill Fralic, OL, Pittsburgh, Pa., Penn Hills.
1979--Herschel Walker, RB, Wrightsville, Ga., Johnson County.
1978--Eric Dickerson, RB, Sealy, Texas.
1977--Marcus Allen, QB, San Diego, Calif., Lincoln.
1976--Freeman McNeil, RB, Wilmington, Calif., Banning.
1975--Charles White, RB, San Fernando, Calif.
1974--Billy Sims, RB, Hooks, Texas.
1973--Earl Campbell, RB, Tyler, Texas, John Tyler.
1972--Tony Dorsett, RB, Hopewell, Pa.
1971--Dave Logan, E, Wheat Ridge, Colo.
1970--Pat Haden, QB, La Puente, Calif., Bishop Amat.