House of Cards: Inside the Pichottas quest to bring post-grad sports to AZ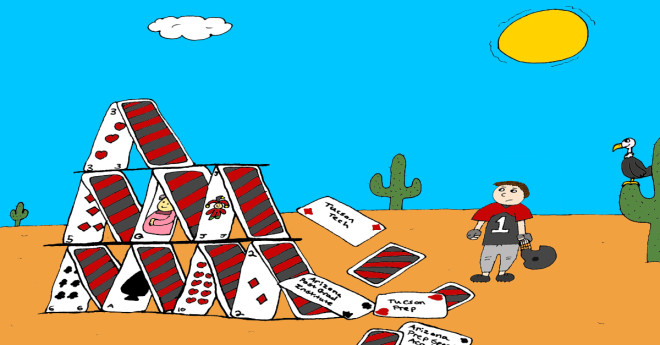 Dear (Athlete)
We are being swamped so in order to try and meet deadlines I am now writing you after seeing your video and at this time I would like to offer you a full-ride to come and be a student athlete for us and be a huge part of our football program... If you are for sure interested please respond and our AD will be calling you to discuss your full-ride and see if you will be ready to sign a letter of intent with Tucson Tech.
*****
It's getting late into the evening on March, 17 2015. Jeffrey Pichotta is scrolling through his Twitter feed when he comes across something that strikes him as odd. He reads that a high school football player from Glendale, Arizona has signed a letter of intent to play for a post graduate-prep school in Georgia. His first instinct is to make light of the situation. Why on earth would a player have to sign a letter of intent to play at a prep school? But the more that Jeffrey, known to others in the Arizona high school sports community as "Coach P," researched athletic prep schools, the more he wondered if this was the sort of thing he might be able to pull off in Southern Arizona.
Less than 12 hours later, Coach P reached out to Trent Windsor, a man who would later become his prep school's recruiting coordinator, "...I cannot say much yet," he wrote. "but I have just been hired as a (head coach) here in Tucson at a college level- new school..."
Of course, the truth was he had hired himself to coach a school that at this point, only existed in his imagination. This half-truth he expressed to Windsor would be the first of an extensive list of fibs, omissions, and outright lies that would come to define his family's ongoing effort to bring a post graduate athletic prep school to Tucson.
*****
Sharon Pichotta's dream of starting her own school predated her husband's revelation. In January of 2015, Sharon registered the domain name "DesertSageCollegePrepK12.com." Sharon had taught at Tucson Unified School District's Booth-Fickett Magnet, a K-8 school with an emphasis on math and science. Desert Sage, perhaps a reference to the Pichotta's one-time residence in southern Colorado, never got off the ground, but the time spent researching what it would take to start a school from scratch would ultimately aid in the Pichottas ability to convince prospective student-athletes that their prep school would provide viable academic opportunities.
By promising free rent, life skills training, tuition assistance through a partnership with a local community college, ACT and SAT prep courses, and most importantly, a chance to play football beyond high school, Jeffrey and Sharon Pichotta would convince dozens of athletes from all over the country and state to make the trek to Tucson, Arizona to be a part of what was then called Arizona Prep Sports Academy.
Many of those athletes would return home disappointed, broke, and in some cases, with serious damage to their credit.
*****
The Pichottas hit the ground running. Three days after Coach P had announced his self-hiring, the website domain for Arizona Prep Sports Academy was registered, and he had put the word out on social media and various online football forums that he was looking for talent. The Pichottas knew that they'd need more than just their charm to lure kids to a school that had no building, no teachers, no football facilities and no track record. In order to accomplish their goal, they were going to need people to vouch for them.
Finding a bridge Coach P hadn't burned amongst the local sports media would be tough. While some found him affable and entertaining, others were wary of his antics- including his propensity to threaten a lawsuit toward many of the people he had simple disagreements with (Full disclosure- I'm one of them, far from the only one, but for the sake of transparency, he has threatened to sue me twice). Though the website he once used to cover smaller school prep sports across Arizona hadn't been active in years, Coach P still presented himself as a functioning member of the Arizona high school sports media. He used his social media accounts to post scores from rural areas that no one else was able to get- and on several occasions, Coach P would be the first to break coaching carousel news. He recorded podcasts out of his now-defunct combination fireworks stand and restaurant. He traveled long distances to broadcast games- as far as Highlands Ranch, Colorado on one occasion. Coach P didn't just fancy himself a reporter, he also presented himself as an entertainer. On several occasions, he referred to his online presence as a persona- one that was a harsh critic of Arizona Interscholastic Association, and often chided the smaller Canyon Athletic Association for refusing to accept a business proposal from him years earlier. Perhaps it was his personality, or the persona he often credited his online antics to, but finding someone to provide media coverage for his new venture was going to be a chore.
Chris Eaton, owner of Gridiron Arizona, a high school football website dedicated to covering the state's largest programs, seemed like a perfect mark for Coach P. The Pichottas reached out to Eaton about sponsoring his website, much in the same way that Arizona Christian University had recently become a sponsor of the AIA's media arm, AZPreps365. In return, all Eaton had to do was report the offers that APSA made to Arizona kids. It was a good plan. Eaton is well respected, and Gridiron Arizona providing coverage for a new prep school in Tucson would help get eyes on their program from players and coaches at the schools that Coach P didn't already have a connection to. The plan went wrong for a reason that you'll come to see as a recurring theme with the Pichottas- they didn't hold up their end of the deal. The money that Sharon agreed to pay never reached Chris Eaton. Sharon declared the payment lost, and claimed to have sent it again, but that failed to arrive as well. Eaton moved on. With media backing out of the picture, the Pichottas were going to need another way to help convince players to give APSA a chance.
That's where Trent Windsor comes in.
*****
Trent Windsor and Jeffrey Pichotta were both from the Rocky Mountain West. They had Colorado, and football in common. The other thing Windsor and Coach P agreed on, is that the state of Arizona was full of kids who deserved another chance at making their football dreams come true.
Windsor's son, J.W., was a dominant defensive lineman in Phoenix's East Valley, first for Basha, and later for 2014 division 1 state champion Chandler. Despite J.W. Windsor's play on the field, and effort in the classroom, no division 1 school came calling. Listed at just over 6-0, he didn't have the uncoachable element (size) that most high level college recruiting coordinators look for. Ultimately, he took a scholarship to play for South Dakota School of Mines.
Trent Windsor hadn't just seen his son overlooked, he believed he had seen players from all over the state be passed over. When presented with the opportunity to assist young men looking to better their situations, Trent Windsor became the passionate, credible resource that Coach P needed to get his prep school off the ground. As a former football coach, and coming from a military background, Windsor's charisma, attention to detail and affinity for discipline would help APSA land some of their best prospects.
Windsor was given a list of resources that the Pichottas would provide for their "scholarship" players. Among the things supposedly covered by the full scholarship (what the Pichottas now refer to as "LOI perks") were uniforms, pads, rent, life skills training curriculum, six credits at Pima Community College, SAT/ACT prep courses, help with college recruitment, gym access, and transportation fees. The total value the Pichottas placed on tuition and fees for their post-grad prep school: $10,200.
Armed with over 10 grand apiece for what Sharon would later claim was 40 players, Windsor and Coach P began seeking out their prospects. Despite initially laughing at the idea that kids had to sign National Letters of Intent binding them to their decision to go the post-grad route, Coach P would ask prospects to do exactly that. The reality is an LOI in no way applies to, or binds an athlete to attending a prep school. Perhaps the Pichottas were aware of that fact, and assumed they couldn't be held accountable for failing to follow through with promises that, unbeknownst to Windsor, they would not end up fulfilling.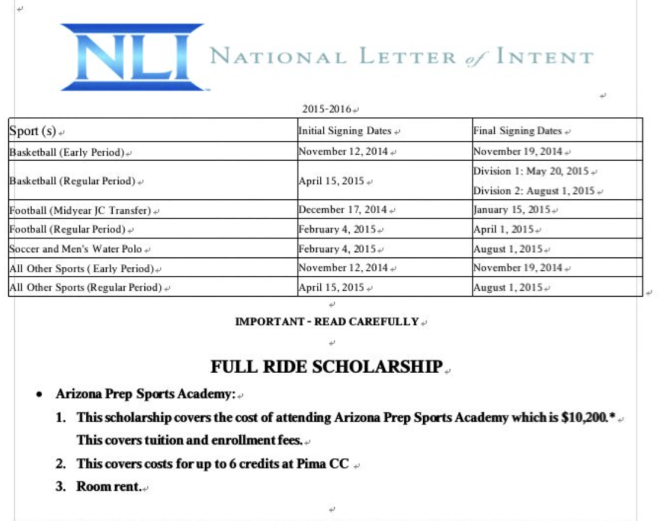 *****
James Crider scored the touchdown that would end up sealing the 30-23 win for Apopka over Miami Columbus in Florida's 2014 8A state championship game. He was on top of the world. Soon, however, that world would be flipped upside down.
Crider was close to qualifying academically, but found out at the end of his senior year that he wouldn't quite make it. After three years of playing in the Florida state championship under Apopka head coach Rick Darlington, the 6-2, 195-pound wide receiver with a 37-inch vertical was wondering what to do next. Like most athletes who don't find out about their qualification status until it's late in the recruiting process, Crider hadn't quite wrapped his head around using some of his eligibility to go the Junior College route.
Crider's coaches at Apopka were contacted by Trent Windsor, and when James and his father Chris heard about the opportunity to save eligibility with a "free-ride" to a prep school in Tucson, they looked at it as a break they sorely needed. Windsor first presented the Criders with the opportunity, and then the family scheduled a conference call with head coach Jeffrey Pichotta. Chris wanted to be as diligent as possible, so he searched for anything about the school online, but when he came up empty, he made sure to ask plenty of questions on the call. The list of the school's amenities and credentials could not have been scripted out any better for Chris. As a priority recruit, James would be living with the Pichottas instead of in an apartment. He'd have access to college courses, and as for the academics at APSA? A 5-1 student-teacher ratio, including Coach P's cherry on the resumé sundae- his three times being named teacher of the year.
It sounded too good to be true. Of course, it was- but the Criders wouldn't find out until much later just how different things would be from the expectations that were set on that initial phone call. When the phone call ended, they felt good about the decision for James to play for APSA in Tucson, but they had one additional concern- concussions. James had sustained two concussions in his high school career, and he had it recommended to him that he wear a special SpeedFlex helmet. Chris reached out to Windsor and Coach P and volunteered to purchase the helmet himself. Coach P assured him that the helmet would instead be part of his scholarship package.
The gesture to buy the SpeedFlex helmet sealed the deal. James Crider was headed to Arizona Prep Sports Academy. In a move that Chris regrets to this day, he told James that he'd be leaving for Tucson as soon as school let out. James wasn't exactly excited about the idea of missing out on a senior summer celebrating with friends, but he figured there would be time to celebrate later. Football, and getting back on track academically were his priorities now.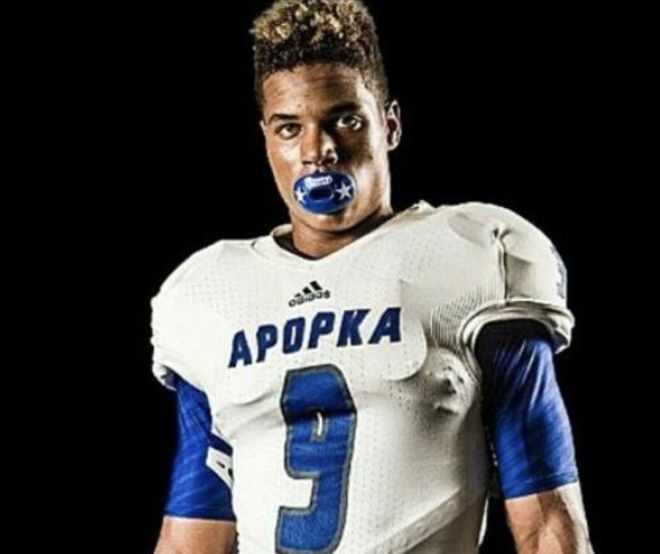 *****
Gewann Frazier was a 6-1, 250-pound offensive lineman who had started a few games on the Chandler High team that won the 2014 Arizona state championship, the school's first in the modern playoff era. By the time April of his senior year rolled around, he wasn't sure what his next move was going to be- or if there would be a next move at all. While watching Duke beat Wisconsin in the NCAA men's basketball championship game, he saw his phone flash an incoming call from a Tucson number, and let it go to voicemail. It was Coach P, calling to offer him a free-ride.
Trent Windsor had spent all season watching Frazier- not just his play on the field, but his interactions with teammates. Windsor believed that Frazier had plenty of football left in him, and also that, perhaps more than anyone on the roster, Frazier could be someone that APSA's young program could build around. Less than four weeks after the idea initially came to the Pichottas to embark on this endeavor, they had convinced Frazier, and fellow Chandler offensive lineman Vinny Vital, to drive to Tucson to see what APSA, which had yet to even be incorporated, had to offer.
Frazier and Vital were shown around Pima Community College's East Campus, as well as Kino Sports complex, where the Pima Aztecs football team played their games. The connection to Pima Community College was heavily emphasized. The Pichottas told Frazier and Vital that Pima was where they'd take classes, and Kino is where they'd practice and play football- with the clear distinction that they'd only be part-time students at Pima so as not to start their eligibility clock, and that the jerseys they wore while playing at Kino wouldn't say "Aztecs" on them.
As far as Frazier could tell, APSA and Pima had some type of partnership, and while there was never any connection between Pima and the Pichottas post-grad program, they would use the illusion of a partnership in order to build their program. It's a strategy that worked on Frazier, who along with Vital, commiitted just a couple of weeks after his visit- but it's also a strategy that nearly derailed the Pichottas' dream of a post-grad athletic school before the train ever had a chance to leave the station.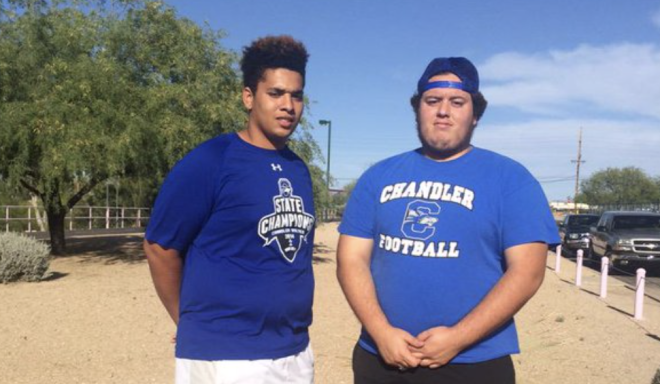 *****
By mid-May, the Pichottas had commitments from student athletes from several Arizona high schools, including Joy Christian, Santa Rita, Marcos de Niza, Cholla, River Valley, Sunnyside, Pueblo, Palo Verde, Coolidge, Florence and Estrella Foothills. They were working on bringing in two athletes from California, as well as two more from Florida to go along with James Crider.
All of the commitments of local athletes drew the attention of the staff here at ArizonaVarsity.com. When exploring the school's website, some concerns arose that prompted me to reach out to then publisher Jon Perryman, who gave me the go ahead to pursue the story. Among the concerns were:
-Arizona Prep Sports Academy asking for the social security numbers of prospective athletes, as well as their guardians, in the application to the school.
-Arizona Prep Sports Academy advising that students sign a contract stating they would take out more FAFSA funding than they would need to cover their classes at Pima Community College, in order to help pay their tuition at APSA.
- Arizona Prep Sports Academy advising parents that the Pichottas would have access to their children's grades through Pima Community College, which they would in turn provide to parents in the form of regular progress reports- information that can only be released with the student's permission.
-Plagiarized content directly from websites of successful east coast prep schools such as Brigdon Academy and East Coast Prep, including APSA's Mission Statement (taken from Brigdon), and their Academic outline (taken from ECP).
-Discounted tuition to Pima Community College.
Unable to reach the Pichottas, I contacted Trent Windsor, who informed me that he was not aware of the website's claims, but that he would ensure any issues were addressed immediately. Both Windsor and representatives of Brigdon Academy were able to reach the Pichottas using the same number that I had repeatedly called, only to be told the person answering was named "Joe," and he had never heard of APSA. Prior to the story being posted, APSA's entire website was scrubbed clean. Only then did Jeffrey Pichotta reach out to issue a statement and give his version of events.
Coach P's story was that he posted an ad on Craigslist for a website developer, and that he gave the person who responded to the ad some guidance on what he was hoping to accomplish. Ultimately, however, Coach P said he gave the Craigslist developer complete autonomy to post whatever he'd like. He said he was too busy recruiting to see what had been posted, and that because he knew the parents he spoke with were getting correct information, he did not believe the content of the now-scrubbed website would create any issues. Coach P claimed none of the information that prompted my inquiry was given to parents by himself, Sharon, or Trent Windsor. While multiple parties agreed that Windsor had never advised them on any of the contested issues, and many of the "full scholarship" athletes said they never had any conversation about tuition rates or the FAFSA, they all claimed to have been told they'd be receiving academic progress reports.
Coach P declined to provide the name of the website developer he claimed was responsible for all of the plagiarized and incorrect information on his website. He also declined to provide any documentation corroborating that he had contacted a web developer via Craigslist in the first place.
The mistake of what was put on the website is one small step. I'll take responsibility for that. In the end, it's my responsibility to make sure nothing like that is on the website. Things were moving very fast. It wasn't supposed to be up that long, so I really didn't pay attention to it. I don't pass the buck. There was something on there that had been copied based on what Bridgon told me, then I took it down... I don't want one mistake with the website to turn into something negative that will hurt the kids trying to come down here.
Jeffrey Pichotta's statement on the matter was enough to convince many parents and athletes that a simple mistake had been made, and that they'd ultimately still have the chance to play football and take steps to better themselves academically at APSA. In the days following the report, Coach P would seem to openly celebrate the attention that was being paid to his school.
*****
When James Crider arrived in Tucson, he had been given the same tour of Pima's East Campus by the Pichottas that many of the players had. The Pichottas exuded confidence, and the campus was nicer than they had imagined. Still, James and his father Chris took notice when they'd arrive at a classroom and Coach P would seem to stall them in the hallway while Sharon went in ahead, only to emerge and give her husband the signal that it was all clear to proceed.
The Criders were excited to observe an APSA practice with the players that had already arrived and moved into The View at Catalina apartment complex. When they arrived, they saw what seemed to be playground football. Three quarterbacks taking turns throwing to receivers who weren't lined up in any discernable formations. The receivers were crossing routes and running into each other. I'm going to get hurt here, he thought. I can't run these routes. Chris saw his son's concern, and told his James to trust his instincts and play the type of football he had learned at Apopka under coach Darlington, and not to do anything that he thought would put him at risk. As James watched the receivers get in their sets, he noticed several taking a small hop out of their break, instead of just getting right into the route. He knew that all a defensive back had to do to stop a receiver who hops is jam them at the line. That was the moment his trepidation turned to determination. I wish I had cleats right now, James thought. When I get out here, I'm going to help these guys get better.
One of the things that stood out to James the most when he first arrived in Tucson was Gewann Frazier reaching out to him to welcome him to the team. Trent Windsor's instinct about Frazier were right. To many of the players, Frazier's enthusiasm and demeanor would help them feel at home away from home. Frazier helped convince prospects from California who had doubts in the wake of the ArizonaVarsity.com story that the program was legitimate, and to ultimately join the team. Despite all this, Frazier was starting to have his own doubts about the program. He and Vital would leave the team before APSA ever played their first game.
The story of how Gewann Frazier came to depart a program he had helped to sell to others, and the aftermath of that decision, serves to further illustrate the culture of smoke and mirrors the Pichottas had to create in order to get APSA off the ground.
*****
Gewann Frazier and Vinny Vital decided to drive to Phoenix to watch their old high school teammates open up the season against Pinnacle High. That was August 20th, 2015. Their first game with APSA, which had now begun to refer to itself as Tucson Prep, was against Pima Community College the next day. While at the Chandler game, they ran into their old offensive line coach, Chris Chick, who happened to be the offensive line coach at Scottsdale Community College. Chick flatly told them they'd have an opportunity to be on the roster at Scottsdale, and that was all they needed to hear. Frazier had been looking for an opportunity to get away from an environment in Tucson that he felt was growing more and more toxic every day.
Frazier was set on leaving APSA/Tucson Prep the week before, shortly after the players had scrimmaged against Mesa Community College. The team had not been able to get a clean play off all scrimmage long, and toward the end, Frazier was asked to go in on defense. For Frazier, that was the last straw. His school counselor at Chandler had told him not to go to Tucson in the first place, but with a $10,000 scholarship, he saw APSA as a nothing-to-lose opportunity. Shortly after his arrival, however, he found that the things he had been promised weren't going to be delivered.
Frazier was told that there was an offensive line coach that was dying to work with him. In his nearly two months with the program, he never met that coach. Coach P attempted to tell him how he should be blocking, but it conflicted with what he had learned from previous coaches, so he refused to adapt. After Coach P initially told him he wouldn't play if he didn't follow instructions, Frazier says Coach P relented and made him and Vital de facto coaches of the offensive line.
Frazier had to procure his own shoulder pads, but it wasn't his own lack of resources that were eating at him. Eric Cohens, a running back and linebacker from Connecticut who played at the same high school that Frazier's dad went to, had been sleeping on an apartment floor until Frazier volunteered his couch. The two players that Frazier convinced to come out from California were also sleeping on apartment floors. Frazier was increasingly troubled by the growing animosity between Coach P and James Crider, over what he understood to be an equipment issue. Once, when Coach P and Sharon refused to answer Frazier's calls and texts on behalf of Crider, who they were also avoiding, he went to the Pima Community College's East campus looking for them. Coach P had told Frazier he had an office at PCC, but the employees at the campus denied the office belonged to, or had ever been used by anyone affiliated with APSA.
Frazier said the situation really started to deteriorate when Coach P came to the apartment complex and announced the program would begin to issue random drug tests, and claimed that he possessed keys to all of the apartments so that he could conduct regular room checks. No drug tests were ever administered, and the apartment complex denies issuing the Pichottas keys.

Frazier wasn't the first to leave APSA. Some players left almost a month earlier, alluding to either concerns they had about way the team was set up, or how practice was run. One quarterback complained of having a dead arm from spending practice only throwing deep balls. Another player was concerned about a two week gap where there were no practices at all, and his requests to have a playbook to study were denied. Coach P, sensing their dissension, had come into their apartment, and in their words, "berated" them. They packed their bags and left the program soon after.
Still, Frazier and Vital were supposed to be building blocks for APSA, and Frazier had helped assemble the roster. This loss wasn't just going to affect the team's on-field performance; it would disrupt the chemistry as well. When Coach P tweeted the next morning that APSA had helped Frazier and Vital move on to get scholarships at Scottsdale Community College, Frazier was confused. Not only had Coach P not helped connect them to their old high school coach, Frazier wasn't even going to SCC on scholarship. Frazier had been receiving text messages from teammates, some upset that he had left the team, and others telling him that Coach P was claiming to have scheduled the meeting between them and Coach Chick. It wasn't the first time that Frazier had heard conflicting information about supposed contact between Coach P and prospective colleges, as he'd often speak with teammates who were reportedly getting offers and they'd deny ever having had contact with the aforementioned school.

Frazier and Vital headed back to Tucson to pack their things. They still wanted to support their former teammates, so they made the trip to watch APSA/Tucson Prep play against Pima Community College. Perhaps the mood of the team was affected by the 83-2 defeat at the hands of the Aztecs (APSA/Tucson Prep was down 67-2 at halftime), but it was clear immediately that Frazier and Vital were not welcome. Coaches and players alike told them to watch their backs in two weeks, when they were set to play against Scottsdale (one of four games on APSA's schedule that ended up being cancelled). The players Frazier had befriended confided in him that despite the outward appearance of celebrating he and Vital's move to Scottsdale, which is what APSA was supposed to be all about, their names had been written on a whiteboard to designate that they were quitters, and should no longer be thought of as teammates or family.
Jeffrey Pichotta reached out to request pictures of Frazier in his SCC uniform so he could promote the good works of the APSA/Tucson Prep program on their website. Still upset over the duplicitous nature of their communications, Frazier declined. Despite Frazier being given a "free-ride," and even though Coach P claims that APSA assisted him in his transition to junior college football, the Pichottas ceased paying Frazier's share of the rent. Frazier claims that the Pichottas have not returned any of his calls about the rent bills, and so he has been working to pay off the nearly $800 debt so it won't end up affecting his credit. Frazier is one of several full scholarship players who left APSA with outstanding debts- but perhaps none racked up more than James Crider.
*****
When James Crider asks a question, he expects an answer. The Pichottas uncanny ability to side-step direct inquiries, or dodge and delay responses were ineffective with James, and because of that, the relationship soured quickly.
One by one, James watched as the roommates he had while living at the Pichottas house were told they'd be moving out and signing leases with the rest of the team at The View at Catalina. First, Bryan Christian of Estrella Foothills was told he'd be transitioning out, and then a teammate who had moved out from the Florida Keys was told the same thing. When Jeffrey and Sharon finally broached the subject with James, he was hesitant. His parents had been promised that he'd be staying with the Pichottas in Vail, and as far as he was concerned, he was entitled to what he had been promised- plus, James had a teammate from Apopka who had yet to move out to Tucson who had been promised shelter by the Pichottas as well. Trent Windsor, convinced that the living arrangement wasn't appropriate for a college-level football program, pushed Coach P to tell James that he had to join the rest of the team. At the beginning of July, Coach P drove James to The View at Catalina and dropped him off, telling him that his only choice was to sign a lease, and asking him not to talk to his parents about it until he and Sharon had the chance to speak with them first. James was reluctant to sign for an apartment, but he also didn't want to be stranded 2,000 miles from home without a place to lay his head. After having his own bedroom for the first few weeks, he signed the lease, and joined four other players in a two bedroom apartment.
James' time at the Pichotta's compound had been a mixed experience. There was a car provided for him and his two housemates, but James didn't have a driver's license. Coach P helped him secure a construction job, and when he didn't have boots, purchased the boots before James could even ask his dad for the money. James also was surprised to see Coach P purchasing groceries for his teammates, as he had been told Coach P was a chef and might cook for them, but he had been given the expectation that he'd be buying his own food. Often times, James would see, firsthand, the root of many of the players' frustration about not being able to reach the Pichottas by phone. When the phone would ring, Sharon would announce the players name and ask Coach P what he wanted to do- more often than not, Coach P would advise her to not answer. The players would instead reach a voicemail message that said APSA was receiving "a high volume of calls." There were some times when Sharon would answer, and the player on the other end would ask for Coach P, and she would reply with something along the lines of "I'll patch you through," and simply hand the phone over. All in all, however, James was comfortable at the Pichottas residence.
As James was settling into his life at the apartment complex, where some of the kids were on scholarship, and others were paying their own rent, he began to wonder when his SpeedFlex helmet would arrive. Inquiring about the helmet was a sore spot for Coach P, who would tell him to practice with what they had available, and that repeatedly asking about the helmet would only make him less likely to make the promised purchase on James' behalf. The conflict over the helmet escalated when Coach P asked James for money, and told him he wouldn't purchase the helmet until the debt was paid.
Among the things Coach P asked James to repay him for were the boots he had bought in order to help with his construction job. James agreed to pay for the boots, but protested the other items on Coach P's list. The Pichottas told James he needed to pay for the groceries he consumed while living with them, as well as pay for the gas he used while driving the extra car at the residence. James countered that he had not asked for the groceries, and that he never driven the vehicle, but had made sure to pay for gas whenever he was a passenger. The Pichottas also requested money to help send his test scores to the NCAA. James had taken neither the ACT, nor the SAT while in Tucson, so he referred Coach P to his father over any debt involving test scores. James had been told when he moved in with the Pichottas that their daughter Jennifer Wittman, who was also listed as the Director of Arizona Prep Sports Academy on their articles of incorporation, would be responsible for his academic assistance and test prep. He had only run into Jennifer by chance on one occasion, and had not seen or heard from her since.
James suspected that the money the Pichottas were requesting was to help pay for the helmet they had promised his father they'd purchase for him. This theory was further exacerbated by Coach P's decision to refuse purchasing the helmet for James until he paid for the boots, gas, groceries, and his test scores. Coach P also barred James from practicing until the debt was paid.
Recruits were told that APSA/Tucson Prep would have Kino Sports Complex as a practice facility, but the actual practices were held at Palo Verde, a dog park that included two Pop Warner fields, located four miles from the apartment complex. Though he was barred from practicing, James came to practice at Palo Verde the following day, without football gear, to observe. Coach P was not happy about James' attendance, and told him to go home. James contended that he had been barred from practicing, not practice altogether, and informed the coach he'd be watching from the bench. Coach P threatened to call the police if James didn't leave, and then pulled him aside to ask again if he was going to pay the requested debt. James agreed to pay for the boots, at which point Coach P told him there would be no helmet.
Chris Crider ended up purchasing James' SpeedFlex helmet. When James' helmet arrived, Coach P told him that he had ordered the helmet as well, but now that he saw James already had one, he'd cancel APSA's order. That was two and a half months after James' arrival, and days before their first game against Pima.
*****
James Crider relied heavily on Trent Windsor, as well as his position coach, Rafael Sanchez, for guidance. Sanchez, who called James a "great kid," and "a talent unlike he'd ever seen before" was helping the Criders navigate the recruiting process. Windsor had been sending Crider's film to other colleges before he ever arrived in Tucson, was concerned with the escalating tension between Crider and Coach P, and was clear with both James and Chris Crider that he believed James needed to play his part in creating a harmonious environment. After the 83-2 loss to Pima Community College, Windsor, citing other professional opportunities, moved on from APSA. At the time of his departure, he believed that the lack of discipline displayed by the kids off the field was playing a large role in the program's decay. Eventually, for unspecified reasons, Sanchez was also no longer around the program.
Many of the players that had traveled to play in Tucson and live at The View at Catalina had never been away from home before. Unlike a traditional dorm experience, the players were living 5-6 to an apartment without any supervision, and some didn't have any furniture to their name. There were reports of drug use and fights, and the promise the Pichottas made to the leasing office about being available by phone, day or night, to handle any situations that came up, went largely unfulfilled. The players who were part of APSA, but lived in the Tucson area, were often seen spending large amounts of time at the apartments. Players moved rooms as spots opened up due to defections from the team. It was nearly impossible to keep track of which players were supposed to be where. Still, the apartment complex's management did their best to attempt to educate the students on their responsibilities. Management knew that even though they were receiving money orders from the Pichottas, the residences were still in the students' names, and they the kids would ultimately be liable for any damage or unpaid dues.
One of the biggest issues that led to the chaotic living situation at The View at Catalina was the amount of idle time the players were left with when the original plan to have them take "Life Skills" courses through APSA never came to fruition. None of the players were ever offered any of the test prep or tutoring they had been told would be available to them. Most of the players who intended to take their APSA-paid 6 credits at Pima Community College ended up not taking classes at all. James had come to Tucson with the intent of taking the Pichottas up on their offer to pay for two college courses, but was told they had a different plan for him. James was told by the Pichottas that he'd be taking online courses, and that they were just waiting to get approval from the NCAA to make sure they were accredited. James recalled being told there would be a 5-1 ratio of students to teachers at APSA, and that Jennifer Wittman would be personally helping him with his studies, so he waited for word on when that was all going to come together. When he finally did inquire about the status of his online schooling, after the season was already underway, Coach P informed him that his handwritten letter to the NCAA hadn't been answered yet. James never received any schooling- online, college, or otherwise, in his time at APSA.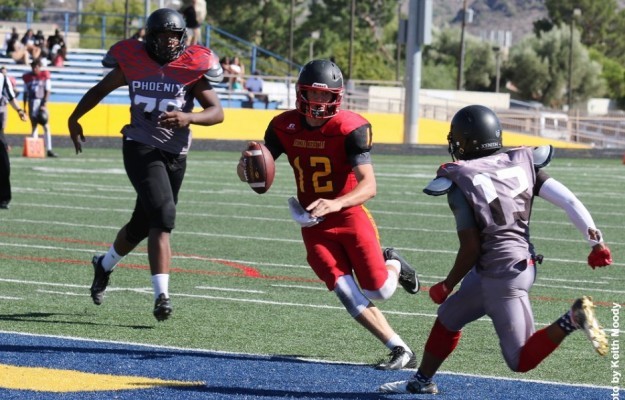 *****
Even with the turbulence off the field, on the field APSA/Tucson Prep (now also going by Arizona Post Graduate Academy) was making progress. Despite the blowout loss to Pima, opposing coaches took notice of James Crider. By mid-October, Coach P was giving James, as well as the rest of his players, their highlights to upload to their HUDL accounts, and was even putting videos of James on Youtube and promoting them on Twitter (Here you can see the only clip of James the Pichottas haven't erased).
At first, Coach P gave a strong recomendation on James' behalf to Pima Community College coaches, and publicly acknowledges Pima's pursuit of James on social media.

In the days that followed that announcement, however, Coach P would go from congratulating Crider online, to deleting James' film and attempting to convince the Pima coaches to rescind their offer. All over an unpaid electricity bill.
*****
James Crider came home from work one day to find the electricity in his apartment turned off. He immediately text Coach P to let him know, and got a response asking if he had paid the bill. What bill? He thought. I'm supposed to be on a full scholarship. James went to the leasing office to find out more, and they explained to him that accounts with Tucson Electric aren't opened up through their office, but instead, over the phone or online. James called Tucson Electric, and they asked him to verify his account. Confused as to how he had an account with Tucson Electric in the first place, he provided his personal email to the customer service representative. That representative told James that his email address didn't match the email on the account. Instead, the email on the account matched one of the addresses used by the Pichottas. James was confused- how could the Pichottas open an account under his name? Where did they get his social security number from? Was it the online application on the original website? Was it the free trial gym membership they had him and his roommates at the Pichotta compound sign up for when they first arrived?
Do you want to file a fraud claim? It took a moment for the customer service rep's words to sink in. Did James want to file a fraud claim against the head coach of the football team he was playing for? James decided to hold off, and refused to make any updates or changes to the account in the event that he somehow ended up responsible for the debt. He reached out to the Pichottas with a simple question- Who opened this account?
The next few days were rife with conflict. Coach P told Chris Crider they'd be putting James on a bus home for disciplinary issues. Coach P and Sharon told James they were bringing the police by the apartment complex to get to the bottom of the Tucson Electric issue, but showed up without the police and and repeatedly tried to convince James that he had opened the account, not them. In a moment of frustration, in front of other players, Sharon called James a moron, and admitted to opening the account in his name, but only with his permission.
James moved out of the apartment because it had no electricity. He was told he wouldn't be welcome on the roster for APSA/Tucson Prep/Arizona Post Graduate Academy's final game, an October 25th win against Sul Ross State University's JV squad (moving Coach P's squad to 3-3 in their inaugural season). Over the course of the week, Chris was determined to get to the bottom of his son's billing situation. He repeatedly asked over email who opened the account in his son's name. The responses he would receive would come from Coach P's email, but were unsigned, and as he had received responses from Coach P's email signed by Sharon Pichotta in the past, he was unsure who he was communicating with. The responses asked Chris to convince James to allow them to negotiate with Tucson Electric on his behalf. James was resisting because he had heard the Pichottas were attempting to convince another player on the team to put the severely delinquent bill in their name. Chris was told, via email, that if James didn't give the Pichottas permission to talk with Tucson Electric by Wednesday, October 28th, they would no longer assist his son.
On October 28th, Sharon, through Coach P's email address, proposed James a solution. They'd pay $150 of the outstanding bill, as well as James' portion of the October bill, and James' rent through January 2016. It would be up to James to collect the remaining balance from the tenants of the apartment that he was no longer residing in, on account of the lack of electricity.
The same day the Pichottas made the Tucson Electric settlement proposal, they claim the apartment that was in James Crider's name went through a "routine inspection." They claim that drug paraphernalia was found, and that the staff at The View at Catalina reached out to make them aware of the situation (Others have claimed that the Pichottas, although their names were not on the lease, entered the apartment to inspect the unit themselves). Based on the findings, the Pichottas determined that James, who was no longer residing in the unit, was responsible for the items found, and sent an email notifying him that his scholarship was revoked. The notice also stated and that the offer to pay for 6 credits worth of classes at Pima Community College, something they had dissuaded him from doing, was null and void. In the notice, Sharon Pichotta moves the pledged rent payment date from January 2016 back to the end of November, and says "we hold our student athletes to very high standards..." despite APSA never offering an academic element that would constitute any of the players in their program being defined as "students" of Arizona Prep Sports Academy.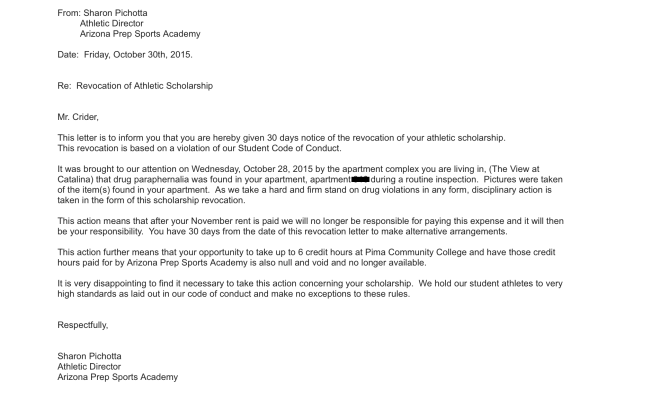 The revocation of a scholarship that Jeffrey and Sharon Pichotta had already failed to honor in the areas of housing, equipment and education, was the least of James' worries. James had planned on returning to Tucson in 2016 to play for the Pima Aztecs, but was being told by people within that program that Coach P was attempting to inform Pima coaches that James was a drug user and disciplinary problem. In addition, Coach P took to social media to make open allegations of drug use and blackmail.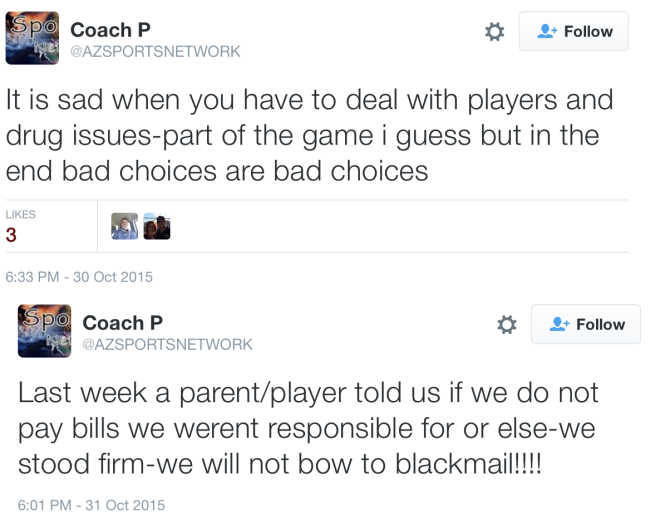 Moreover, when an additional college program reached out to James for his film, James learned that Coach P had deleted it from HUDL, and would only agree to share the film if he was able to talk with that coach directly. James declined.
As it stands now, James Crider's issue with both Tucson Electric and The View at Catalina remain unresolved. The Pichottas never contributed any money toward his share of the electricity bill, as they had proposed to do on October 28th- and despite pledging to cover his rent through November, James's owes more than $2,000 to creditors on the apartment alone. James' full share of a 6-month lease at The View at Catalina- somewhere he was never supposed to reside in the first place, would have been far less than that amount that now shows up on his credit report.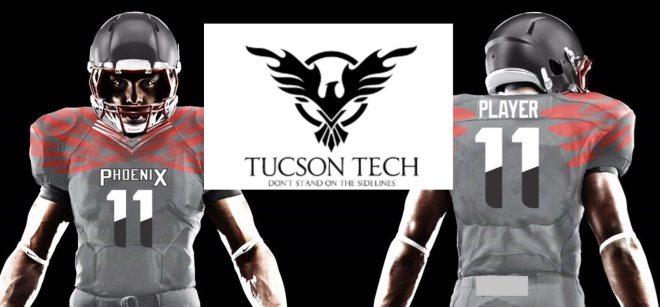 *****
By mid-October of 2015, Jeffrey and Sharon Pichotta moved into the next phase of their post-grad plan. The Pichottas initially listed the address of their business with the Arizona Corporation Commission as 8400 E Broadway- the abandoned gas station they had turned into a restaurant and fireworks stand (but that they no longer were leasing). On October 16th, they filed for a change of address, to 8181 E. Irvington Road- otherwise known as Pima Community College's East Campus. The document was signed by Sharon "Shalosky," the maiden name that she uses interchangeably in business dealings, along with her middle name (Kaye), and well as Pichotta.
Once the season was over, the Pichottas settled on a fourth name for their post grad school. They had been called Arizona Prep Sports Academy, Tucson Prep, and Arizona Post Graduate Academy- now they would go by Arizona Post Graduate Institute, registering the domain name "azpgi.com" on December 11th.
Coach P was much more aggressive with AZPGI, openly courting kids on Twitter- asking if they had offers, and sending them offers via direct message. On February 3rd, National Signing Day, Coach P signed several athletes to letters of intent to play for AZPGI. Letters of intent remain inapplicable to post-graduate schools, but as he had done the previous year, he was able to convince these players otherwise. Then, as suddenly as it appeared, AZPGI vanished, replaced by a fifth name for the Pichottas post grad school.
Tucson Tech.
If "Tucson Tech" sounds familiar, it might be because it has infrequently been used by the Arizona State University athletic fan base as a derogatory term for the University of Arizona- much in the same way that Wildcat fans and alumni refer to Arizona State as "Tempe Normal."
Tucson Tech wasn't just going to be a football post graduate academy, it was going to be an alternative school in which student athletes could commit to either 1, 2, or 4 years. Tucson Tech was going to have both baseball, and softball as athletic options, and planned to "outsource" their education to University of Arizona and Pima Community College until they themselves became accredited by the Higher Learning Commission (despite not offering any courses for students the HLC would be able to evaluate).
Students being recruited to Tucson Tech were told outright by Jeffrey and Sharon Pichotta that they were a part of both University of Arizona and Pima Community College, with Sharon "Shalosky" even registering the business address as 8181 E. Irvington Road (again, that's Pima Community College's East Campus). Students were even advised to use Pima Community College when filling out their FAFSA during the application process to Tucson Tech.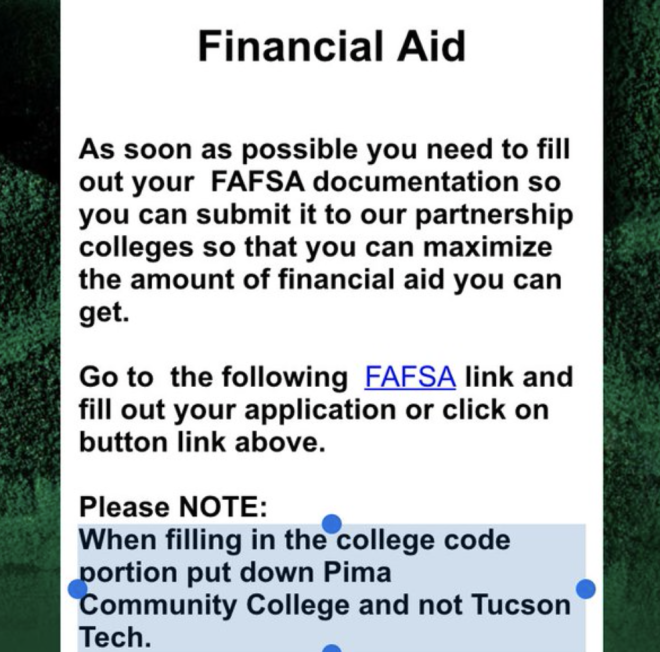 When it was referenced online that Tucson Tech and the Pichottas were again claiming a connection to Tucson Tech, Sharon Shalosky filed paperwork with the Arizona Corporation Commission to change the business address to 1130 W Miracle Mile- a former hotel that had been used as a women's shelter, and later a restaurant, and was being refurbished by owner Daniel Eftimoff for Tucson Tech to use as a dormitory for this year's group of players. Eftimoff confirmed that he intended to lease to the Pichottas, and that they had even been conducting coaching interviews out of the location, but that at the time the address change had been filed by Sharon, the lease had not actually been signed.
Among the changes that the Pichottas have made to their plan for Tucson Tech over the last two weeks is removing their daughter Jennifer Wittman as the Director, and installing Sharon Shalosky (Kaye, Pichotta) in her place.
The continued attempt to link with Pima Community College without their consent or permission has not gone unnoticed, as Athletic Director Edgar Soto reacted by issuing us this statement.
"Tucson Tech has nothing to do with Pima Community College Athletics. The only thing I know about them is that they might be advising their players to take classes at Pima Community College. Which would be fine with us since we would like to boost our enrollment. I was President of the WSFL the last two years and they are not affiliated with our conference they are also not sanctioned by the NJCAA at this time. In order for them to be a member of the NJCAA they need to be a two year college that is accredited by the appropriate State/National or regional accrediting agency."
Soto added that he had been wary of the confusion their attempted affiliation with Pima Community College had caused from the start, and that while all were welcome as students of Pima, he would be advising his coaches not to schedule games against Tucson Tech in the future.
*****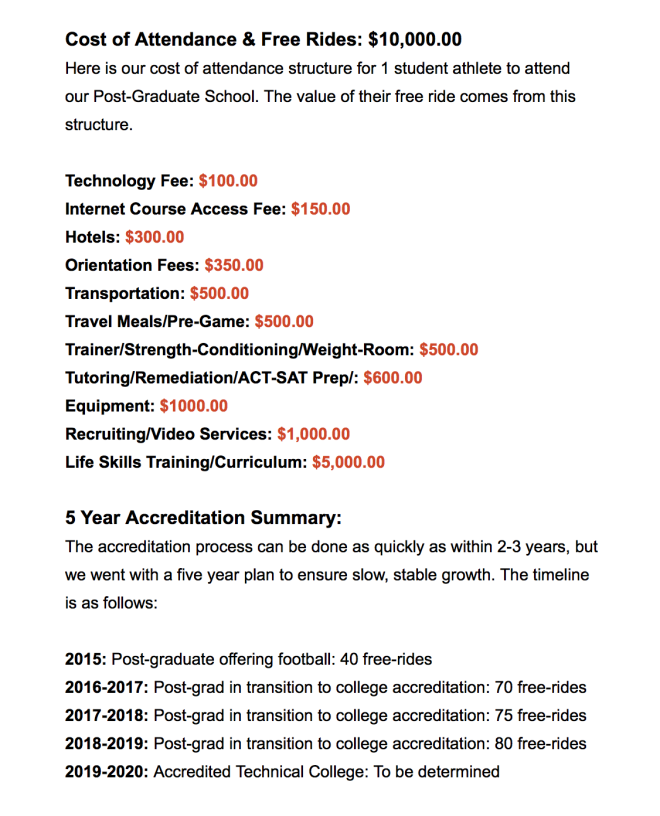 The latest update to the Tucson Tech website includes a message from athletic director Sharon Kaye (Pichotta, Shalosky), in which she breaks down the value of the $10,000 tuition students have waived if they are one of 70 "free-rides" for 2016. Within the breakdown is $5,000 worth of Life Skills Training/Curriculum, presumably the same curriculum that was included in the $10,000 value of the previous year's full scholarships- curriculum that was never actually taught. The value of the curriculum seems to be heavily inflated over the price of similar Life Skills Training Curriculum for ages 16 and over ($265). Sharon claims to have paid the first year's full rides out of pocket, although many of the services were either never offered, do not match the professed value, or were not fulfilled at all, leaving the (non)student-athletes in debt.

The statement also includes a breakdown of how Tucson Tech will attempt to achieve accreditation, with plans to be an accredited Technical College by the year 2019. In order for that deadline to be met through the Accrediting Commission of Career Schools and Colleges, which handles accreditation applications for Technical Colleges, they'll have to start training and students according to their developed curriculum for two continuous years beginning in the fall of 2016. That will leave the recommended 18-24 months for their accreditation application to be approved. As of right now, Tucson Tech is still only offering a single post-grad athletic season with no outlined educational curriculum.
Tucson Tech has branded its new mission as expanding from helping overlooked athletes, to assisting kids aging out of foster care, at-risk and homeless youth, and resident aliens who have been in the U.S for at least 5 years. In addition to the charitable aspirations of the latest version of the school, the Pichottas also plan to name one of the residences after former Tucson High running back De'Antae Fuller, who was killed on Easter. Fuller, according to several accounts, was a player who had been removed from the team by Coach P prior to season's end.
While it remains to be seen whether they'll be able to front the cost for the facility they are already advertising as their Learning Center, but is still listed as a leasable property online, remains to be seen.
Sharon addresses the controversy of the previous season in the Frequently Asked Questions portion of the school's new website, saying "with every business you cannot make everybody happy no matter how hard you try."
But surely, a business that purports to be a school- one that has charitable aspirations, can at least leave "full scholarship" players without ruined credit, or questions about whether their coach and his wife committed fraud.