Inside the Locker Room with Skyline coach Michael Wirth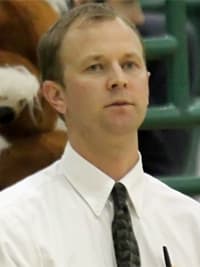 Coach Michael Wirth became one of the youngest head coaches in the state of Iowa at the age of 23 in 1999. He led Armstrong-Ringsted High School (Armstrong, Iowa) to more wins in his first year than the previous two years combined. Michael also served as a two-time Iowa Basketball Coaches Association Junior Select Team Coach.
Coach Wirth moved to Arizona in 2002 and became the head coach at Maricopa High School (Maricopa, Ariz.) for three years. Highlights at Maricopa included winning the Holiday Hoops Classic twice. His team had the highest win percentage with a 21-3 record in 2005 when the Rams were Desert West Region champions. In 2005 he was Maricopa Unified Schools Teacher of the Year.
Michael took over the head varsity basketball job at Mesa, Ariz. Skyline High School in 2005-06 and has the most career wins in school history. Highlights at Skyline include winning the Skyline Invitational Tourney championship three times as well as being crowned champs of Holiday Hoops Classic. His teams have set 14 different school records including most wins in a season in 2008.
In 11 of his 13 years as a varsity head coach his teams have been awarded Academic Achievement Awards with a team grade point average of 3.0 or higher.
In 2005, Michael helped form the Arizona Basketball Coaches Association (ABCA) and continues to serve in various roles, currently as the Fall Coaches Clinic Director. He also founded the 3D Hoops Institute, a youth basketball academy that teaches the fundamentals of the game of basketball and fundamentals of life.
He's also director of the Skyline Shootout, one of the largest summer high school basketball tournaments in Arizona.
Coach Wirth has over 100 wins as a varsity head coach.
********************************
ArizonaVarsity: Where did you attend high school and college - tell us about your playing career?
Coach Wirth: All-State player at North Iowa High School in Buffalo Center, Iowa. Played on the Iowa Select European Team in 1993. Played at University of Minnesota-Morris, 1993-95.
AV: How did you get into coaching?
Coach Wirth: Coached youth teams throughout high school and college. Became a head coach at age 23 at Armstrong-Ringsted High School in Armstrong, Iowa.
AV: How do you manage your time during the season with respect toward your teaching/coaching duties and your social/family life?
Coach Wirth: One of my favorite quotes comes from the Boise State football program. "Excellence = Everything you got for the time that you are there."
While I am at school and practice, I give it everything I got while I am there. When I pull in the garage at home, I try to shut off the coaching and teaching part and give it everything I got to be a husband and father. Some days it's hard to shut off the job when you get home. It is something I am trying to get better at. You really want to try to live your life according to your priorities. I want my priorities to be in this order: Faith, Family, Career. It is easy to say it, much harder to live it. It also helps to have an amazing wife!
AV: Who are your coaching idols?
Coach Wirth: John Wooden, he was and always will be the best.
AV: Do you have any current or past mentors and what did you learn from them?
Coach Wirth: Brian Beltramo, Fellowship of Christian Athletes. I learned John 3:30. More of him and less of me. He helped me to see what is really important.
AV: How could AZ high school basketball be improved?
Coach Wirth: Having the final 8 teams constitute the "state tournament" where all divisions play at one location. Girls play one week, boys play the next week. As a fan of basketball, I want to go watch all of the state's best teams in one location. It is what many states do, and it is an amazing atmosphere for coaches, players, and fans.
AV: What do you feel is the biggest challenge facing AZ high school basketball?
Coach Wirth: Two things are a challenge: 1. A lack of the "Guardians of the Game" mentality within the coaching profession. As coaches we need to all realize the huge impact of our profession. It is such an important position that gets taken for granted. With being a coach comes a higher responsibility - next to parenting, we have the biggest impact on the lives of so many young people.
We need to work together as coaches to maintain the integrity of the position; to help each other become a positive impact in the lives of so many. There are some amazing coaches out there that are doing just that but many times the mentality is to live in our own world, to worry only about and build our own program. We all need to build the coaching profession, to give back, and to focus on improving basketball in the state of Arizona, not just our own program.
2. The transient nature of our society along with education not being a focal point in state. We should want education to be the top priority in our state. If we did, all our athletics would be better as well.
AV: How do you feel the Arizona Interscholastic Association (A.I.A.) is doing in their administration of the sport of basketball?
Coach Wirth: The A.I.A. has an extremely difficult job and I respect everyone there. I always believe in respecting the position of those that are in leadership and are leading an organization, even if I disagree with their decisions and/or what their values are. But if we truly are about what is best for student athletes, we can surely do better, we can always do better.
It is easy to get caught up in doing what is easiest instead of what is best. I think we will get it right because we have people in the A.I.A. that do care about doing what is right and doing what is best for student-athletes.
In my humble opinion we need to have the following changes for basketball and all of high school sports.
1. Regions of 6-8 schools that play for region championships.
2. No more than one week where three games are played in a week. We should be able to create schedules where the sports have limited overlap and don't force teams to play multiple weeks of more than two games a week. It is not physically or academically healthy for student athletes. If they can fit all the sports in a calendar year with limited overlap in other states, we can do it here too in Arizona.
3. A post-season where every team has a shot to make it.
4. A state tournament that is the focal point where all boy's teams from all divisions play at one location in one week.
AV: Who are the top three high school coaches in AZ?
Coach Wirth: Every coach that believes the mission is to impact lives.
AV: What was your biggest mistake made in coaching? (game or player management)
Coach Wirth: Taking too many years to finally figure out it isn't about me.
AV: If you couldn't coach basketball anymore, yet could coach another sport, what would it be?
Coach Wirth: Golf, it would be the closest I will ever get to getting paid to play golf!
AV: What should the role of parents be during their child's high school years?
Coach Wirth: Supportive, role model on how to handle adversity. Praising the action, not the person. Teach them what it means to be a "Man" or "Woman."
AV: What are your policies for dealing with overbearing or meddling parents?
Coach Wirth: Expectations firmly stated and constant communication.
AV: How do you balance playing time so that the entire roster feels included?
Coach Wirth: I think it starts by creating an environment where everyone is important. Letting players know that playing time like everything else is earned in practice and that it can never also be taken for granted. Also, communicating that everyone will get their "shot" so it is important to be ready when your "shot" comes.
AV: Would you describe yourself as an offensive-minded coach, defensive-minded, or a little of both?
Coach Wirth: I am an offensive-minded coach masquerading as a defensive coach. I believe defense is 10% smarts and 90% heart and guts.
AV: How have you been impacted by open enrollment and/or transfers?
Coach Wirth: The biggest impact we have had is on our schedule. Playing teams that have improved due to transfers; making an already difficult schedule more difficult. We haven't had many players transfer in or out and I think that is a good thing.
AV: How do you feel about players transferring into your program?
Coach Wirth: If a player is transferring in high school, usually it isn't for a very good reason. Here in Arizona you can pick to go to any high school you want, once you pick, it is probably best to stay. And you shouldn't pick to go to a school just because of one sports program or coach.
AV: How do you balance listening to/implementing suggestions from your assistants to ensure that they feel their opinions are valued?
Coach Wirth: If you don't value their input and suggestions then they probably shouldn't be on your staff.
AV: What elements do you focus on when giving your team a scouting report on their opponent?
Coach Wirth: What they like to do defensively and offensively and what we will do against it…..player tendencies and any special plays….who to foul.
AV: What approach do you take in "cutting" kids who didn't "pan-out" as anticipated, i.e. a junior (with potential) who played JV but as a senior would not get any playing time on your varsity team?
Coach Wirth: Again is comes down to creating an environment where everyone is important. If there isn't room on the roster for whatever reason, there are still other opportunities to be an important part of the program.
AV: Generally speaking, what do you like to get accomplished during the summer season?
Coach Wirth: Putting players in positions to gain experience.
AV: Do you see any emerging trends in the high school game?
Coach Wirth: It seems the game gets more and more physical every year.
AV: How do you feel about club ball programs?
Coach Wirth: I think kids play too many games in the club ball season and travel too far. I think the ratio should be 5 hours of practice and skill development for every hour of game time. We are close to that ratio in high school. Most club programs are the opposite, 1 hour or practice and skill development to 5 hours of game time. Playing so many games also diminishes competitiveness.