The 2019 5A ArizonaVarsity Awards
Welcome to the ArizonaVarsity Awards!
A selection committee comprised of Ralph Amsden, Chilly, Chris Eaton, Cody Cameron, Alec Simpson, Brett Quintyne and Zach Alvira put together a list players we feel deserve to be honored for their efforts in the 2019 football season. We appreciate the continued support of the local high school football community. Make sure to follow us on Facebook, Instagram, and Twitter, and please include the link to the article in any screenshots shared to social media (it helps keep us up and running)!
For even more, make sure to check out our 2019 5A ArizonaVarsity Awards Podcast by clicking play below, or downloading directly from Soundcloud.
Without further ado- here are this year's honors for the 5A divison:
ArizonaVarsity.com 5A Player of the Year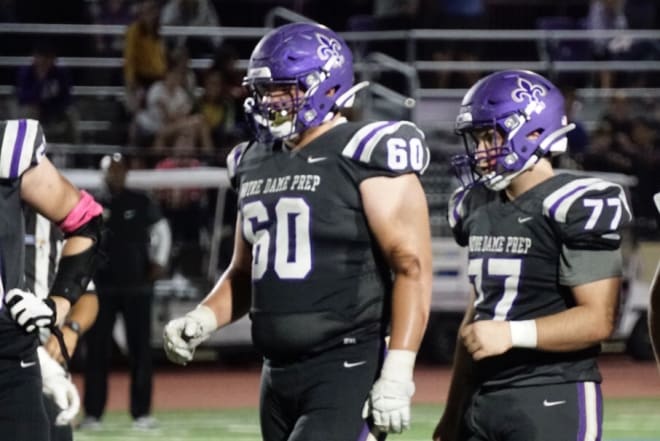 Cade Bennett (Notre Dame Prep)
ArizonaVarsity.com 5A Offensive Player of the Year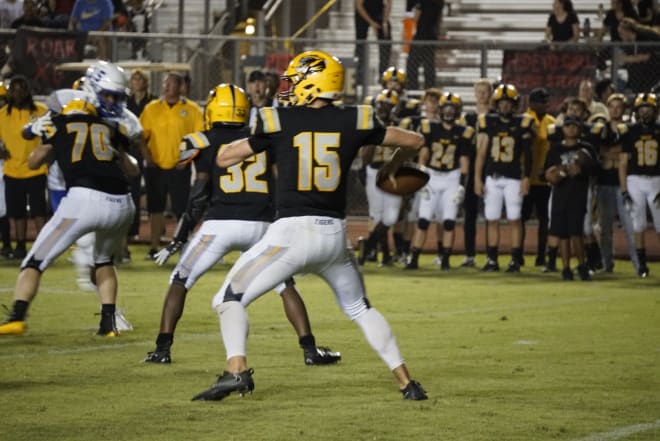 ArizonaVarsity.com 5A Defensive Player of the Year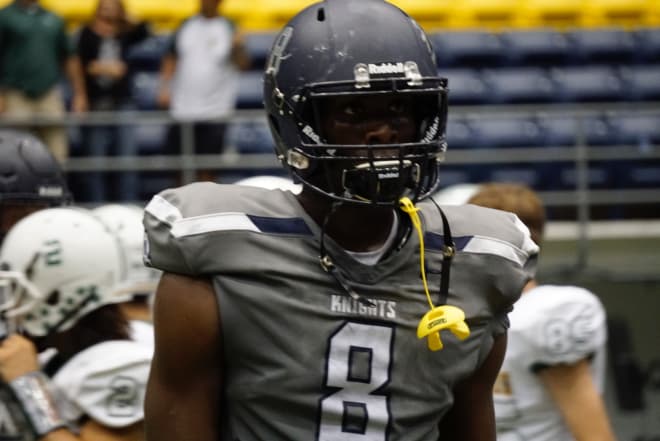 ArizonaVarsity.com 5A Two-Way Player of the Year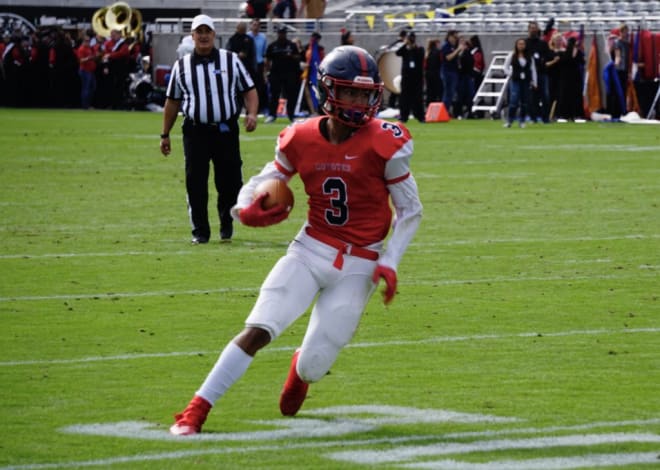 Jaydin Young (Centennial)
ArizonaVarsity.com 5A Offensive Underclassman of the Year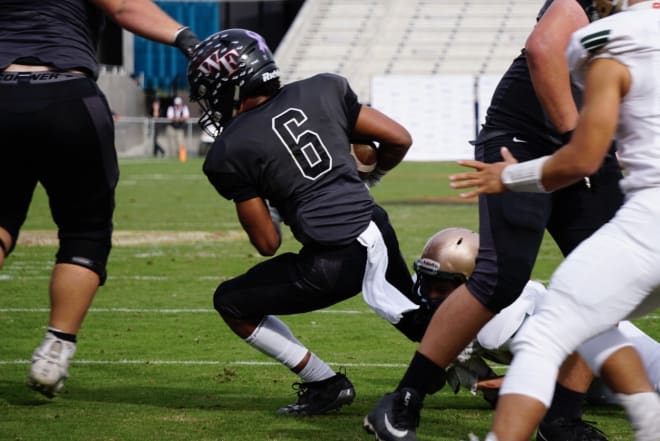 Kaden Cloud (Williams Field)
ArizonaVarsity.com 5A Defensive Underclassman of the Year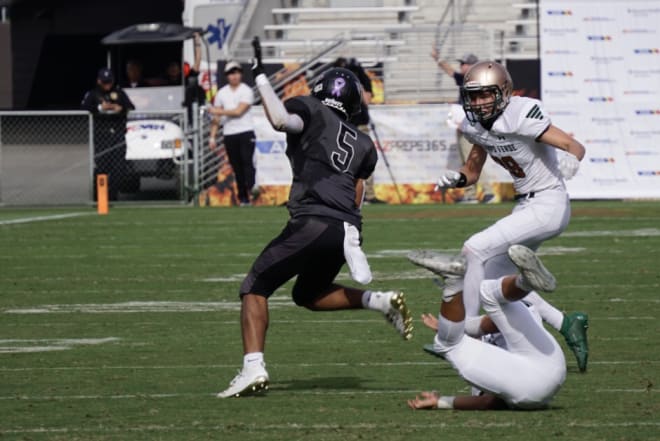 Donovan Guyton (Williams Field)
ArizonaVarsity.com 5A Offensive Breakout Player of the Year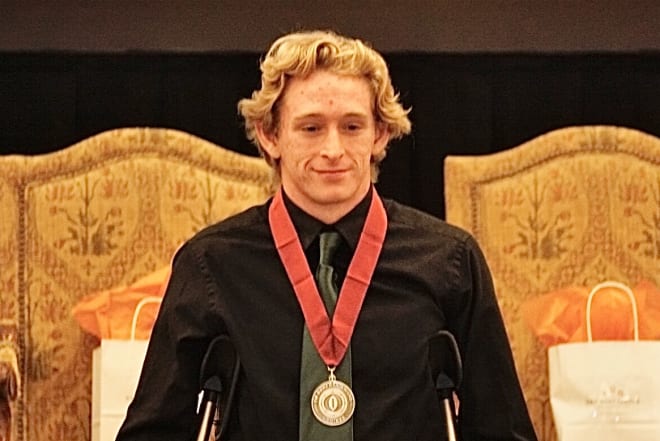 Caden Calloway (Campo Verde)
ArizonaVarsity.com 5A Defensive Breakout Player of the Year
ArizonaVarsity.com 5A Coach of the Year
Max Ragsdale (Campo Verde)
ArizonaVarsity.com 5A Assistant Coach of the Year
Kelvin Hunter (Williams Field)
ArizonaVarsity.com 5A Co-Quarterback of the Year
Mason Bugg (Williams Field) and Jake Martinelli (Horizon)
ArizonaVarsity.com 5A Running Back of the Year
K'rashee Smith (South Mountain)
ArizonaVarsity.com 5A Dual-Threat Back of the Year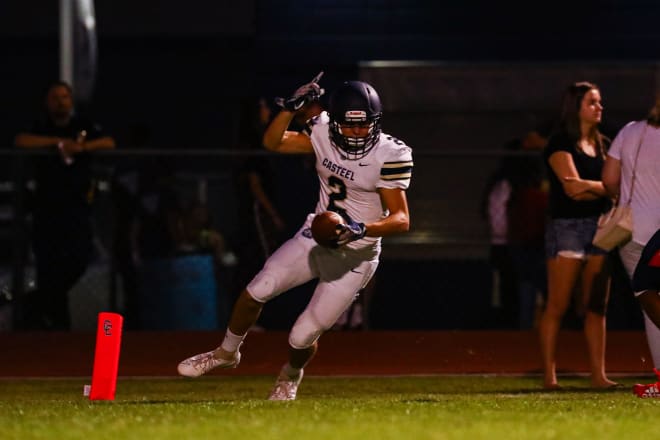 Benjamin Blancas (Casteel)
ArizonaVarsity.com 5A Wide Receiver of the Year
Myles Taylor (Williams Field)
ArizonaVarsity.com 5A Tight End of the Year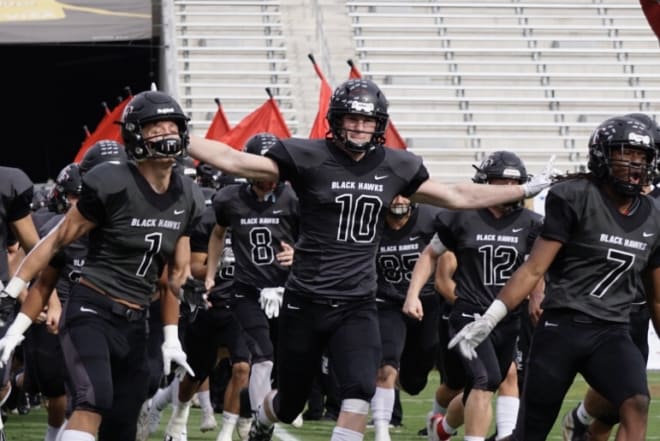 Joshua Gale (Williams Field)
ArizonaVarsity.com 5A Offensive Lineman of the Year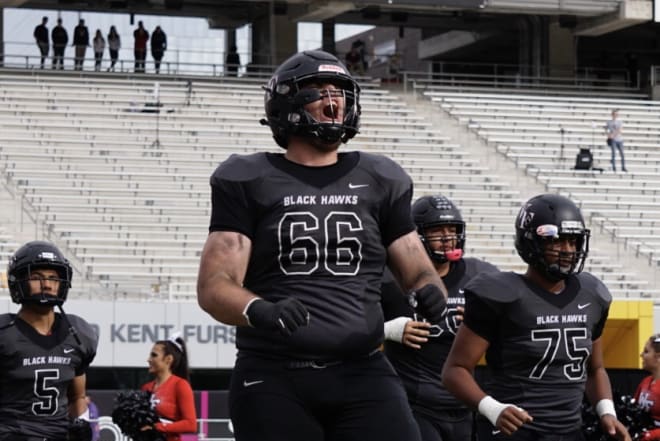 Cooper Darling (Williams Field)
ArizonaVarsity.com 5A Linebacker of the Year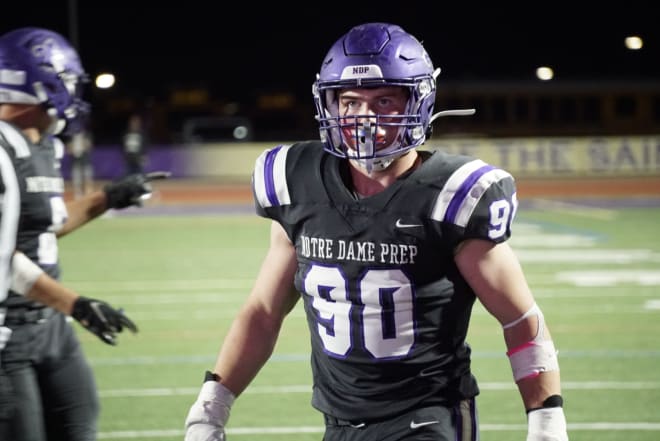 Brock Locnikar (Notre Dame Prep)
ArizonaVarsity.com 5A Defensive Lineman of the Year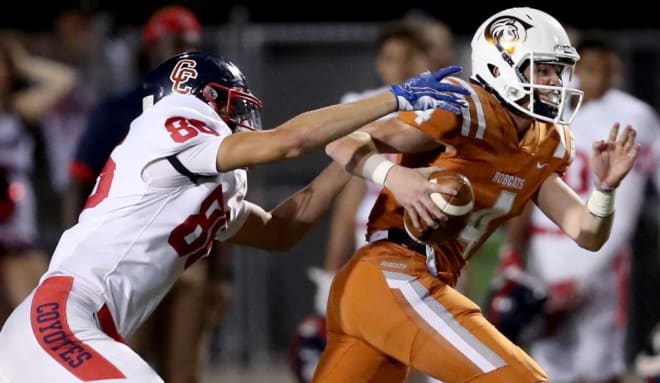 ArizonaVarsity.com 5A Defensive Back of the Year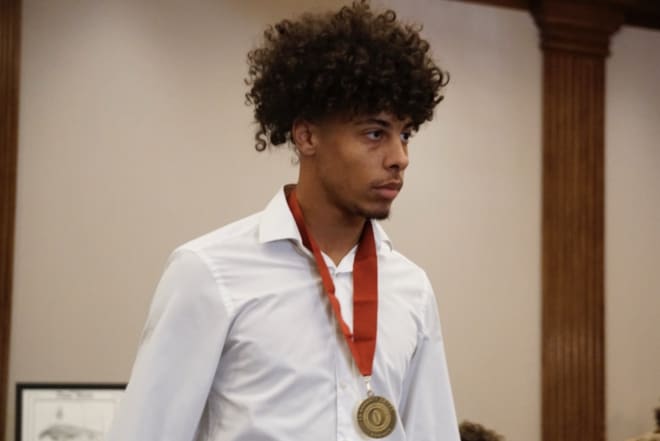 ArizonaVarsity.com 5A Return Specialist of the Year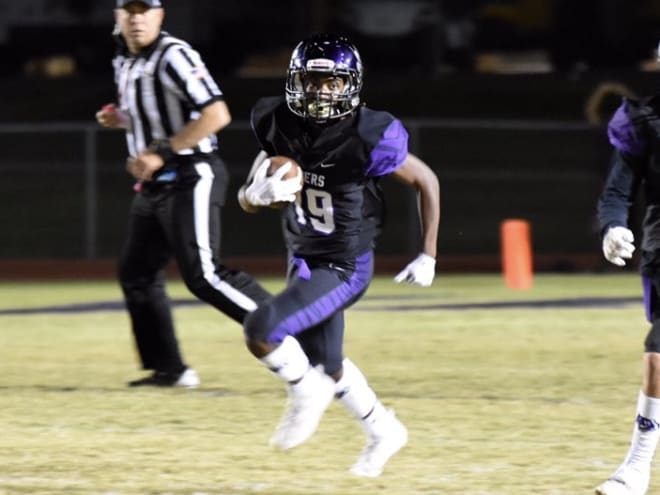 Kaysan Barnett (Millennium)
ArizonaVarsity.com 5A Kicking Specialist of the Year
All ArizonaVarsity 5A First Team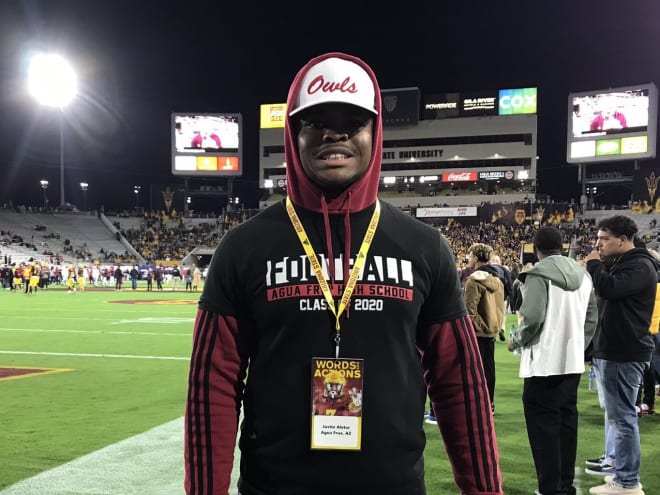 QB- Will Plummer (Gilbert)
RB- K'rashee Smith (South Mountain)
RB- Dominick Mastro (Notre Dame)
RB- Caden Calloway (Campo Verde)
WR- Myles Taylor (Williams Field)
WR- Tyler Hironaka (Gilbert)
WR/TE- Joshua Gale (Williams Field)
WR/TE- Jay Rudolph (Horizon)
OL- Cade Bennett (Notre Dame)
OL- Noah Nelson (Williams Field)
OL- Cooper Darling (Williams Field)
OL- George Roeder (Centennial)
OL- Brock Dieu (Casteel)
DL- Jason Harris (Higley)
DL- DJ Gleash (Centennial)
DL- Justin Aletor (Agua Fria)
DL- Dalton Card (Casteel)
DL- Ameer Dalbik (Campo Verde)
LB- Brock Locnickar (Notre Dame)
LB- Jayden Fletcher (Campo Verde)
LB- Seth Lane (Centennial)
LB- Carson Speer (Williams Field)
DB- Bryce Tate (McClintock)
DB- Eric Haney (Centennial)
DB- Treydan Stukes (Millennium)
DB- Logan Hall (Williams Field)
DB- Donovan Guyton (Williams Field)
KR/PR- Kaysan Barnett (Millennium)
K- Robert Liss (Verrado)
P- Griffin Chewning (Notre Dame)
Two-Way/Flex: Jaydin Young (Centennial)
All ArizonaVarsity 5A Second Team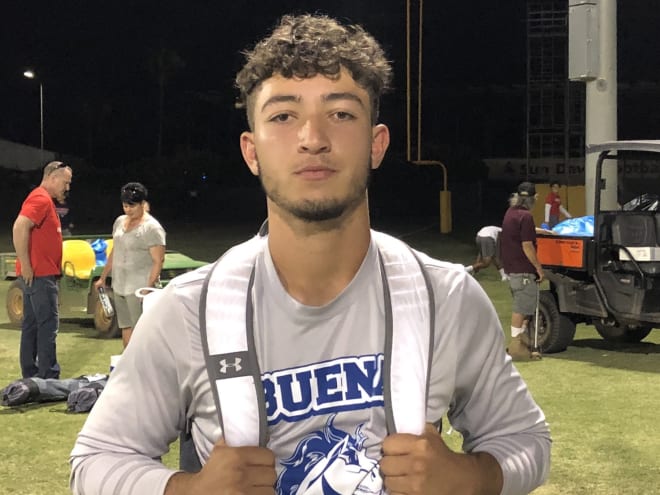 QB- Jake Martinelli (Horizon)
QB- Mason Bugg (Williams Field)
RB- Brandon Barrios (Ironwood Ridge)
RB- Earnest Greenwood (Goldwater)
RB- Isaiah Eastman (Higley)
WR- David Haen (Sunnyslope)
WR- Bryce Tate (McClintock)
WR- Caleb Diaz (Paradise Valley)
TE- Dominic Digian (Casteel)
OL- Caiden Miles (Centennial)
OL- Jonathan Leon (Fairfax)
OL- Dominic Avant (Buena)
OL- Tziaha Quint (South Mountain)
OL- Josh Hovatter (Centennial)
DL- Alvaro Chaparro (Desert View)
DL- Dalton Brown (Williams Field)
DL- Andy Belmontez (Centennial)
DL- JD Roberts (Notre Dame)
DL- Mason Ross (Casteel)
LB- Carson Speer (Williams Field)
LB- Caleb Taylor (Desert Mountain)
LB- Ryan Alsup (Horizon)
LB- Devin Sanchez (Centennial)
DB- Kaysan Barnett (Millennium)
DB- Brandon Jackson (North Canyon)
DB- Cameron Drescher (Ironwood Ridge)
DB- Corbyn Cantrell (Casteel)
DB- Isaiah Montanez (Agua Fria)
KR- Genaro Parra (Nogales)
PR- Amari Harris (Apollo)
K- Grady Gross (Horizon)
P- Fabian Pena (Nogales)
Two-Way/Flex: Jovoni Borbon (Buena)
All ArizonaVarsity 5A Third Team
QB- Dane Christensen (Casteel)
RB- Benjamin Blancas (Casteel)
RB- Logan Gingg (Verrado)
RB- Kendrix Lurry (Williams Field)
WR- Danny McFarland (Campo Verde)
WR- Nathan Duran (Sunrise Mountain)
WR- Dyelan Miller (Centennial)
TE- Josh Lang (Sunnyslope)
OL- Blake Gamez (Verrado)
OL- Xavier Thomas (Goldwater)
OL- Michael Flood (Maricopa)
OL- Jackson Wiles (Notre Dame)
OL- Justin Friskey (Desert View)
OL- Ethan Lavrusky (Horizon)
DL- Kyle Lewis (Horizon)
DL- Spencer Roy (Notre Dame)
DL- Derek Jodarski (Centennial)
DL- Damaggio Strevay (Cienega)
DL- Ian Shewell (Williams Field)
LB- Octavio Audry-Cobos (Ironwood Ridge)
LB- Wyatt Reidhead (Casteel)
LB- Jamarlo Campbell (Millennium)
LB- William Stemler (Buena)
DB- Daylon Storey (Millennium)
DB- Connor Butt (Notre Dame)
DB- Ashton Yurkiw (Sunnyslope)
DB- Dylan Cook (Ironwood Ridge)
DB- Max Weinmeister (Desert Mountain)
KR- Cameron Drescher (Ironwood Ridge)
PR- Nicolas Murguia (Agua Fria)
K- Matt Godinez (Higley)
P- Ryan Hutchens (Campo Verde)
Two-Way/Flex: Devontae Ingram (South Mountain)
Two-Way/Flex: Jesse Avina (Buena)
All ArizonaVarsity 5A Honorable Mention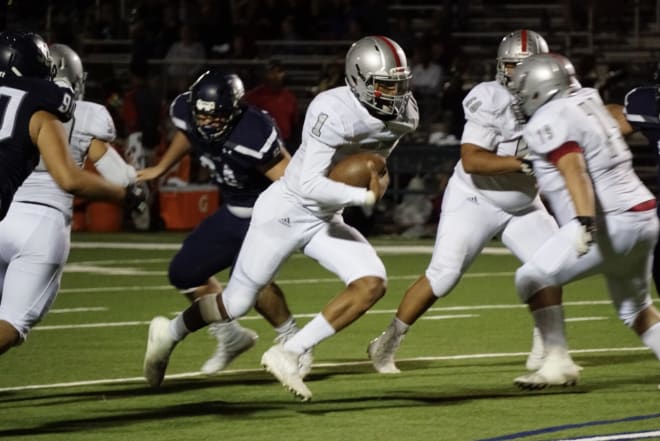 QB- Kai Millner (Higley)
QB- Niko Haen (Sunnyslope)
QB- Will Haskell (Ironwood)
QB- Ben Finley (Paradise Valley)
QB- Zach Hererra (Campo Verde)
QB- Amier Boyd (South Mountain)
QB- Jalan Early (Millennium)
QB- Xavier Benitez (McClintock)
QB- Jonathan Morris (Centennial)
QB- Alexander Gianoli (Sunrise Mountain)
QB- Preston Silvas (Rincon)
RB- Kaden Cloud (Williams Field)
RB- Serge Gboweiah (Desert View)
RB- Carlos Alvarez (Desert View)
RB- Kevin Yarbough (Carl Hayden)
RB- Carlos Alvarez (Desert View)
RB- Kyle Krautstrunk (Paradise Valley)
RB- Jaden Mason (McClintock)
RB- Gabe Levy (Cienega)
RB- Marvin Hooks (Fairfax)
RB- Jalen Williams-Fuller (Agua Fria)
RB- Russell Adams III (Cholla)
RB- Bryan Bogardus (Horizon)
WR- Joevanni Haddad (Paradise Valley)
WR- Estevan Fraijo (McClintock)
WR- Grady Burns (Casteel)
WR- Collin Gapen (Casteel)
WR- Isaiah Newcombe (Casteel)
WR- Keyon Taylor (Buena)
WR- Rogan Freeburg (Desert Mountain)
WR- Ryan Hutchens (Campo Verde)
WR- Travis Gammage (South Mountain)
TE- Alex Lines (Higley)
OL- Harvey Gonzalez (Sunnyside)
OL- Andrew Husfelt (Cienega)
OL- Tyrae McKinney (Cienega)
OL- Adam Bejarano (Ironwood Ridge)
OL- Cooper Harris (Rincon)
OL- Misael Serrano (Mountain View)
OL- Juan Holguin (Empire)
OL- Jesus Ortiz (Cholla)
OL- Kaleb Crawley (Camelback)
OL- Robert Lopez (Carl Hayden)
OL- Ricardo Lugo (South Mountain)
OL- Khash Saxton (McClintock)
OL- Noah Oliver (Cactus Shadows)
OL- Erubiel Martinez (Paradise Valley)
OL- Trent Ramsey (Higley)
OL- AJ Laux (Higley)
OL-Jake Leighty (Campo Verde)
OL- Adam Reed (Williams Field)
OL- Justin Thomas (Casteel)
OL- Matthew Johnson (Sunrise Mountain)
OL- Alexis Sanchez (Apollo)
OL- Oscar Abundis Jr. (Centennial)
OL- Mikaele Fuamatu (Millennium)
OL- Carson Kennedy (Agua Fria)
OL- Lee Sampson (Millennium)
DL- Hunter Schlagel (Cienega)
DL- Jacob Muniz (Cactus Shadows)
DL- Cristofer Carrillo (Central)
DL- Tanner Wengert (Marana)
DL- Ymarius Joshlin (Sierra Linda)
DL- Kyle Pointer (Casteel)
DL- Trajan Forrester (North Canyon)
DL- Damian Brown (Buena)
DL- Nathan Steffen (Sunnyslope)
DL- Rodney Young Jr (Agua Fria)
DL- Hernan Ortiz (Nogales)
DL- Jose Gomez (Verrado)
DL- Jordan Mendez (Gilbert)
DL- Jimmy Seidel (Desert Mountain)
DL- Malachi Siquieros (Casteel)
LB- Daniel Fulton (Gilbert)
LB- Matt Malloy (Notre Dame)
LB- David Cisneros (McClintock)
LB- Ryan Sunga (Campo Verde)
LB- Weylin Jenkins (Marana)
LB- Wyatt Zellner (Gilbert)
LB- Joe Vakameilalo (Goldwater)
LB- Cole Cucitrone (Cactus Shadows)
LB- Matthew Velador (Cholla)
LB- Rene Fragoso (Sunnyside)
LB- Anthony Valenzuela (McClintock)
LB- Luca Moioli (Ironwood Ridge)
LB- Zach Kriens (Higley)
LB- Conrad Gingg (Verrado)
LB- Mark Liano (Campo Verde)
DB- Javon Keene (Central)
DB- Kollins Opoku-Appoh (Mountain View)
DB- Steven Geiger (Rincon)
DB- Damirion Barber (Sierra Linda)
DB- JoJo Plunkett (Desert Mountain)
DB- Sebastian Felix (Cienega)
DB- Brady Medina (Williams Field)
DB- Christopher Villalobos (Campo Verde)
DB- Matthew Velador (Cholla)
DB- Branden Devoy (Mountain View)
DB- Austin Liebeskind (Desert Mountain)
KR- Christopher Villalobos (Campo Verde)
KR- Gavin Smith (Noter Dame)
KR- Jaylen Mosley (Cactus Shadows)
KR- Collin Gapen (Casteel)
PR- Angel Cano (Sunnyside)
PR- Elijah Brooks (Centennial)
K/P- Cameron Weeg (Agua Fria)
K/P- Carlos Quintera (Flowing Wells)
K/P- Joshua Hubbs (Willow Canyon)
K/P- Juliano Reis (Cienega)
K/P- Pablo Gonzalez (Williams Field)
Two-Way/Flex: Jaidren Williams (Goldwater)
ArizonaVarsity 5A Southern Region Awards
Player of the Year: Jovoni Borbon (Buena)
Offensive Player of the Year: Brandon Barrios (Ironwood Ridge)
Defensive Player Year: Jesse Avina (Buena)
ArizonaVarsity 5A Sonoran Region Awards
Player of the Year: Serge Gboweiah (Desert View)
Offensive Player of the Year: Preston Silvas (Rincon)
Defensive Player Year: Kollins Opoku-Appoh (Mountain View)
ArizonaVarsity 5A Metro Region Awards
Player of the Year: K'Rashee Smith (South Mountain)
Offensive Player of the Year: Amier Boyd (South Mountain)
Defensive Player Year: Devontae Ingram (South Mountain)
ArizonaVarsity 5A Northeast Valley Region Awards
Player of the Year: Cade Bennett (Notre Dame)
Offensive Player of the Year: Jake Martinelli (Horizon)
Defensive Player Year: Bryce Tate (McClintock)
ArizonaVarsity 5A San Tan Region Awards
Player of the Year: Mason Bugg (Williams Field)
Offensive Player of the Year: Will Plummer (Gilbert)
Defensive Player Year: Jayden Fletcher (Campo Verde)
ArizonaVarsity 5A Northwest Region Awards
Player of the Year: Jaydin Young (Centennial)
Offensive Player of the Year: Niko Haen (Sunnyslope)
Defensive Player Year: DJ Gleash (Centennial)
ArizonaVarsity 5A Desert West Region Awards
Player of the Year: Jalan Early (Millennium)
Offensive Player of the Year: Logan Gingg (Verrado)
Defensive Player Year: Brandon Fondong (Millennium)