Senior Signing Spotlight: Cam Brown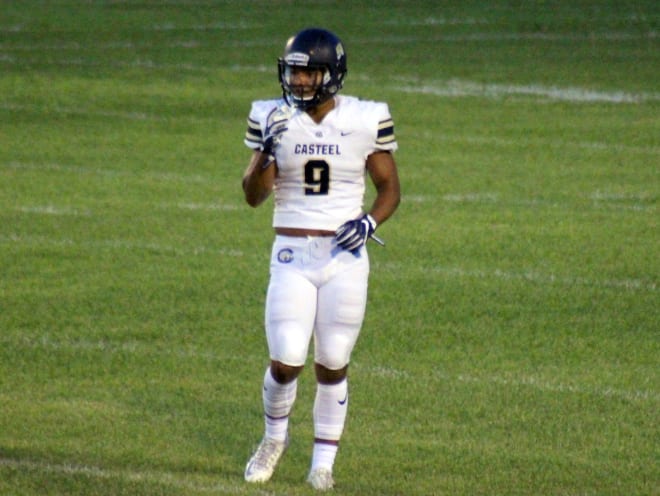 Academics, football program steered Casteel safety to Valpo
This is No. 3 in a month-long series of profiles of Arizona high school seniors that signed with four-year colleges. Here's the full list (currently totaling 273) of players from within the state moving on to the next level.
SPOTLIGHT: 2/10/19
Academics and a Division I football program led Cam Brown to Valparaiso.
Brown, a 5-10, 187-pound safety from Casteel, signed with the FCS school in Indiana earlier this week. He also had offers from Mary (N. Dak.), San Diego, and Penn.
He visited Valparaiso last weekend and committed to the Crusaders on Tuesday.

"Valpo is a high-academic school with a football program to match and I felt like family as soon as I arrived to campus," Brown said in an e-mail interview. "The head coach (Dave Cecchini) came to our house to meet me in person and discuss the quality and rigor of both the academics and the football program and thought I'd be a great fit."
Brown will also have the opportunity to get to know some of his extended family as his grandfather was born and raised in Southern Indiana and there are several relatives throughout the state.
Apart from that is the change in moving from the city to a smaller town, and of course, a different climate. After his visit, they are changes that Brown is positive in anticipating.
"I'm looking forward to the bonds I will develop with my new teammates as well as getting to know my new Coaching Staff, and just the independence of the 'College Experience' overall," Brown said. "I think I'm really going to enjoy the small-town feel of Valparaiso, Indiana and am hopeful my next four years 1,700 miles away from home will be marked with new adventures and help me become a better man on and off the field."

Valparaiso is a private university in Northern Indiana with just 3,300 undergraduate students. That's more than Casteel (approximately 1,800), yes, but certainly less than most Division I schools. Its College of Business is among the elite 25 percent of undergraduate business programs nationally accredited by the AACSB International.

Brown, who carries a 4.52 GPA, plans to major in Business. He feels his training both in the classroom and on the field has prepared him well for college.
"The rigor of my AP classes throughout my years at Casteel as well as the study skills I've been taught, will help me succeed academically at Valpo for sure," Brown said. "(former head) Coach (Spencer) Stowers and (current head) Coach (Bobby) Newcombe taught me that success is a result of hard work and dedication to the grind, and I expect nothing less than the same on the next leg of my journey as a Crusader."
He'll be a part of the first graduating class at Casteel this May. It's been a highly successful group on the field, going 32-5 in its first three varsity seasons. They put the Colts on the map, first claiming the 3A championship in 2017 and then leaping up to 5A and posting a 9-3 mark. Casteel defeated Horizon (49-10) in the first round of the playoffs, before falling to Higley in the quarterfinals.
Brown was used solely on defense as the strong safety. He piled up 64 tackles (seven for a loss) and deflected eight passes. During a 63-7 victory over Kellis, he scored his first touchdown, which came on a 21-yard fumble return.
"I feel like I can read what's unfolding on the field quickly and am able to get to the ball and make the open-field tackle," Brown said. "I'm a strong DB and have been told that my tackles are pretty violent, so I believe my physicality and ability to read the offense will be my strength at this next level."
In a strange timing of events, Cecchini stepped down as head coach on Wednesday (Signing Day) and accepted the same position at Bucknell (Pa.). The Crusaders finished 2-9 last season (2-6 in the Pioneer League). The search is on for his replacement.

Brown had to play for a new head coach as a senior as Newcombe took over for Stowers (who left the state for another opportunity) in June. Many wondered how the Colts would do being up with "the big boys". Some may have been surprised with an 8-2 regular season, but the players weren't.
"Because of our success throughout our first three years as a brand new program, I felt like we were well-prepared to move up to 5A and compete," Brown said. "Our 7-on-7 success the last few years really prepared us well for the size and speed of the athletes from the bigger schools."
Before leaving for Indiana, Brown will have one more volleyball season. He was the setter for the Colts last season. The new campaign begins the last week of February.