Senior Signing Spotlight: Devin Larsen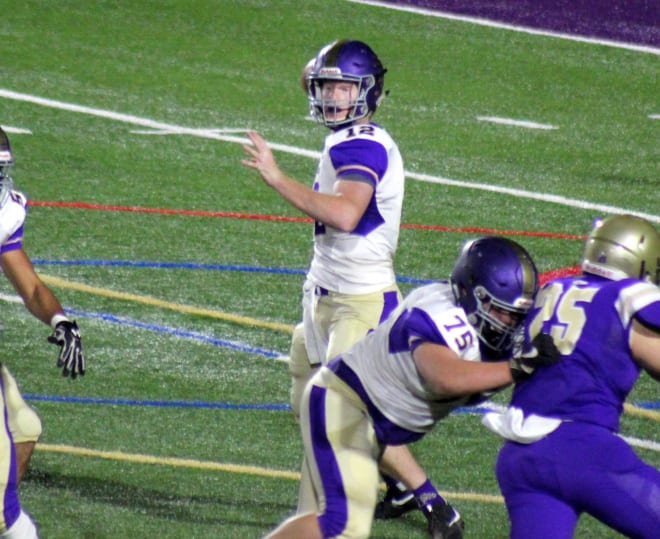 Queen Creek QB Larsen opts for the walk-on route at ISU
This is No. 13 in a month-long series of profiles of Arizona high school seniors that signed with four-year colleges. Here's the full list (currently totaling 288) of players from within the state moving on to the next level.
SPOTLIGHT: 2/23/19
Iowa State plugged an Arizona quarterback (Brock Purdy) in and watched him lead the team to an 8-4 season, tying a modern era record for wins in a season for the Cyclones. ISU went bowling and played in the Alamodome in San Antonio last December. Shortly after that, Iowa State knocked on the door of another signal caller from the Valley.
Devin Larsen holds pretty much every school passing record at Queen Creek. He went 26-7 as a starter. For his career, Larsen threw 75 touchdown passes and 7,073 yards while completing 63 percent of his passes.
Larsen received an offer from Idaho in March of his junior year. But that was it. In a recruitment that mesmerized most observers of high school football in the state, no FBS schools were willing to give Larsen a scholarship. Height wasn't an issue as the big redhead stands 6-4 and 210 pounds. He ultimately decided Iowa State was the best fit and that's where Larsen will go as a preferred walk-on.
"I'm very grateful to Idaho for making me my first offer to play college football, but after meeting (Passing Game Coordinator) Coach (Joel) Gordon and building a relationship with him, it was a pretty easy decision," Larsen said in an e-mail interview. "We were constantly in touch and he really believed in me that I could help their program."

Larsen had attended a camp at ISU the summer before his senior year. He described his January trip to Ames as "amazing".
"I really got a feel for the campus and what the student life was like while I was there," Larsen said. "I got to meet (Head) Coach (Matt) Campbell and talk to him quite a bit. It was really good to hear his side of things wanting me to come there and be a part of their program."
But, perhaps the biggest selling point was with the community and the brotherhood that existed on the team following such a successful season.
"I was able to hang out with some of the players while I was there and it was awesome getting to know them and see how they all interact together," Larsen, who plans to study Health Science at Iowa State, said. "The fans there are amazing as well. Everyone is so kind and welcoming."
There were a lot of wins for the Purple and Gold with Larsen at the controls. The Bulldogs played in six playoff games over the past three years. There was also that same chemistry from interacting with one another.
"The thing I'll miss most about Queen Creek football is the friendships I made and walking onto the field every Friday night with my boys," Larsen said. "I came to Queen Creek not really knowing that many people and they welcomed me into the program. It really was a brotherhood there and we all had each others' backs every night we went out to play."
Size, accuracy, touch, poise, leadership ability, the ability to play under center... still can't believe how many colleges are missing on Queen Creek's Devin Larsen. pic.twitter.com/6qnQZP3gJ1

— Ralph Amsden (@ralphamsden) September 18, 2018
While many on the outside believed Larsen should have been getting more recruiting attention, the quarterback had to live that on the inside and exhibit fortitude on that front while still leading his team each week.

"It was tough at times in the recruiting process seeing schools overlooking me or saying stuff to me and not acting on it," Larsen said. "But I had a great group of people around me that knew the right place would come find me and told me to just be patient."
Larsen didn't get to choose when his high school career would end. It happened on the second-to-last game of the regular season of his senior year when he suffered a shoulder injury.
"It was really tough not being able to finish out the year with my teammates and not being able to finish what we had worked so hard for," Larsen said.

Four months later, he's doing better with the shoulder. Larsen has started to throw a little bit again doing towel throws and also working with a small medicine ball. In another month or two, everything should be back to normal.
Travis Schureman is switching his role with QCHS and will be coaching the offensive line giving way to the return of Joe Germaine as head coach. The pair have been with the school since 2010. Back then, Queen Creek was a 4A school. Now, the Bulldogs are with the biggest in the state in the 6A conference. Larsen credits both coaches with his success.
"Having Coach Germaine in my corner really helped me a lot in going to the next level," Larsen said. "He pushed me a lot and knew I was capable of everything he threw at me. Both he and Coach Schureman helped me to become the player I am today. They believed in me when I was a sophomore and I owe everything to them. I am so grateful to have had the opportunity to play for Queen Creek and to play under those two men."