Senior Signing Spotlight: EJ Hamilton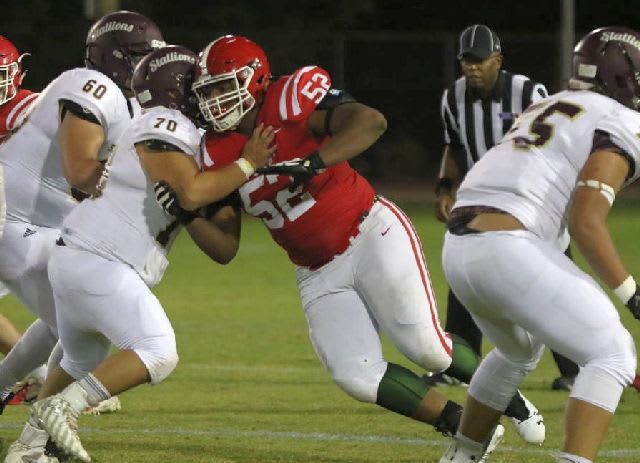 Brophy DT Hamilton ready to get down to business at Black Hills State
This is No. 11 in a month-long series of profiles of Arizona high school seniors that signed with four-year colleges. Here's the full list (currently totaling 286) of players from within the state moving on to the next level.
SPOTLIGHT: 2/20/19
Black Hills State got its foot in the door early with EJ Hamilton. That long-term loyalty paid dividends when the Brophy defensive tackle committed and signed with the Yellow Jackets.
The 6-2, 295-pound lineman also had offers from Western New Mexico and Hamline (Minn.). Hamilton was looking at the bigger picture with BHSU and not simply football.
"Black Hills State has shown interest in me for a long time and it was genuine interest," Hamilton said in an e-mail interview. "Not only did they help inform me in making choices about other colleges, like my option to go to Georgetown, but with the university being so highly ranked in the School of Business, it was more than enough to inform me in my decision."
The Yellow Jackets were the first to offer Hamilton in October. A couple months later, he went on an official visit to the Division II school in Spearfish, South Dakota. Hamilton committed to BHSU in January and made it official on National Signing Day a couple weeks ago.
Hamilton plans to study Business Marketing in college and made it a point to see what Black Hills offered on that end of things during his visit.
"The school has a very large focus on work ethic in both the classroom and the field, in that order," Hamilton said. "I got the chance to talk to representatives for the business program and they made everything very simple, but interestingly complicated."

Hamilton's numbers aren't gaudy (35 tackles), but he's that player every team needs that does the dirty work on the interior of the line. He was named a First Team All-6A Premier Region selection by the coaches. Hamilton is a strong, physical player that dominated against some very good offensive lines. BHSU assistant coach Ray Watkins, who recruits in Arizona, said Hamilton has the ability to be the centerpiece of the Yellow Jackets' D for a few years.
He constantly faced double teams and was able to absorb both a guard and a center. When he's not blocking two, Hamilton is able to use his quickness to get behind the line of scrimmage to meet up with a ball carrier.

"My favorite part of playing D-Line was seeing my teammates have the opportunity to make big plays," Hamilton said. "Since what I did was take up as many blockers as possible and disrupt the flow of the play, I didn't make very many huge plays. But, I created opportunities for my teammates to make tackles and fill holes."
Brophy was one of the most improved teams in the state last season going from 1-9 to 7-4 under first-year head coach Jon Kitna (who has since left and is now the quarterbacks coach of the Dallas Cowboys). For Brophy, which is a Jesuit school operated independently of the Roman Catholic Diocese of Phoenix, to make that turnaround, Hamilton said there was a big change in faith. Faith in their new coach and faith in God.
"A lot of veteran players were scarred by the previous season and we seniors refused to have that happen again," Hamilton said. "Coach Kitna just channeled our fire into a passion for God and we grew as a family. Seniors, juniors, and sophomores all contributed on a regular basis in practice and in the games as well."
Hamilton was called upon to substitute for an injury on the offensive line. Against Basha, he started at center, but also filled in on the defensive line. He wasn't concerned about his conditioning for the situation.
"When I was moved to center, it was to fill in for a downed man and Coach said that I looked good there," Hamilton said. "So, he had me start and focus on that alone for an entire game. Coach Kitna had us ready for anything."
Black Hills State finished 3-8 last season (2-8 in the Rocky Mountain Athletic Conference). The Yellow Jackets signed 32 players in the Class of 2019 (four from Arizona high schools). The school has a long history of recruiting the state. Senior linebacker Austin Goddard, an Ironwood Ridge alum, led the team in tackles with 107. That ranked him third in the RMAC. He was named the team's Defensive MVP.