Senior Signing Spotlight: Fritzny Niclasse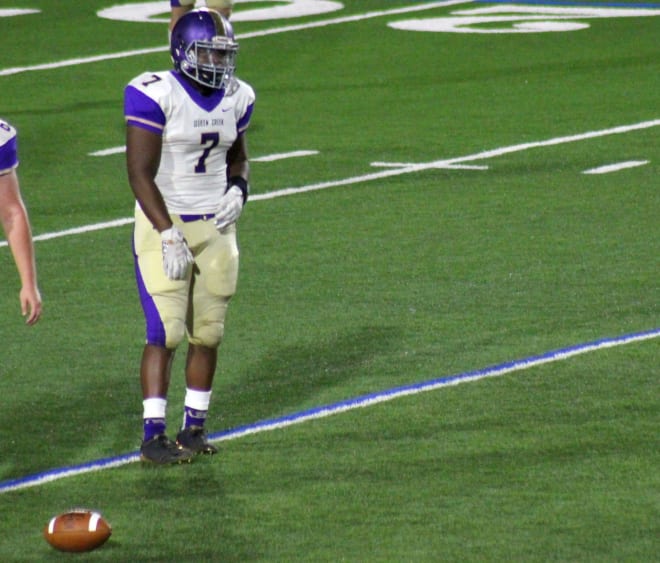 ASU preferred walk-on offer too alluring to turn down for Queen Creek linebacker
This is No. 17 in a month-long series of profiles of Arizona high school seniors that signed with four-year colleges. Here's the full list (currently totaling 291) players from within the state moving on to the next level.
SPOTLIGHT: 2/28/19
The number of in-state signings for Arizona State this year increased in the first year of the Herm Edwards era. A year ago, the Sun Devils had six total players join (including five walk-ons). This recruiting cycle, there were 11. Six of those are walk-ons, including Queen Creek's Fritzny Niclasse.
Niclasse had some offers from smaller schools, but in the end, the 6-1, 220-pound linebacker elected for that opportunity in the Pac-12. He received the offer from the Devils a few days after the Bulldogs' season ended in November.
"I had a couple other offers, but none as appealing as ASU," Niclasse said in an e-mail interview. "It was an easy decision for me and I felt like it was the best one for my family and me."
Niclasse attended Arizona State's final home game last season, a 31-28 victory over UCLA that clinched a bowl appearance.
"I loved the atmosphere throughout the stadium," Niclasse said of the crowd of 46,000 that afternoon. "But, what stood out to me was meeting with (linebackers) Coach (Antonio) Pierce. He has some of the same concepts as Queen Creek, which makes me feel comfortable playing in their system."
Queen Creek moved up from 5A to 6A last season and didn't miss a beat, getting off to a 7-1 start that included a win over Mountain Pointe. Many of the key players for the Bulldogs (who finished 7-4) were seniors. QB Devin Larsen, RB Dylan Borja, WR Ryan Dobbs, DE Christian Fuhrman, S Jett Koester, and Niclasse all brought experience. The school is also not one you commonly see transfers going in or out.

"We expected to play well," Niclasse said. "All of us have been playing together for a long time now, so we've always had good chemistry."
Niclasse led QCHS in tackles with 115 and that total ranked No. 7 in the state in 6A. He was named to the First Team for the Central Region.
Last year during spring ball, Cody Cameron caught up with Niclasse for Arizona Varsity to talk about the grit that the Bulldog defense is known for.

"I will miss playing with all my teammates for the past four years," Niclasse said. "We worked so hard and I'll never forget all the memories we made."
Those memories for the Class of 2019 at Queen Creek include a 27-9 record and three playoff wins.
Arizona State is holding its annual Maroon & Gold Spring Football Practice Thursday (that's tonight!) at 7 p.m. at Sun Devil Stadium. The event is free of charge and fans can take part in trophy photos and autographs with the players. It will also air live on the Pac-12 Network. In Edwards' first season, ASU went 7-6 (5-4 in the Pac-12) and rallied to defeat Arizona in the Territorial Cup. The Sun Devils finished 5-1 at home with wins over ranked teams from Michigan State and Utah.
Niclasse, who plans to study Computer Engineering at ASU, is looking forward to being close to his family and friends while he balls out in his home state.
"I'd like to thank my parents and my two brothers for pushing me every day," Niclasse said. "I wouldn't be where I'm at now without them by my side."