Senior Signing Spotlight: Louis Contreras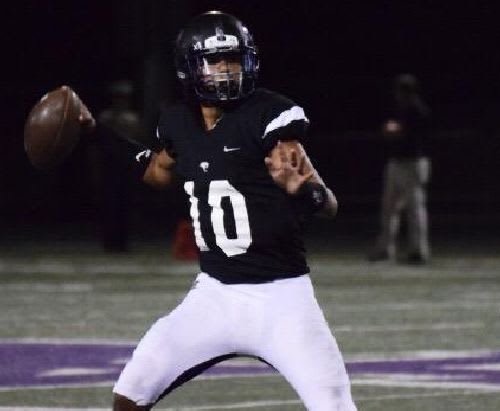 Family environment, location factors in North Canyon QB going to Western New Mexico
This is No. 6 in a month-long series of profiles of Arizona high school seniors that signed with four-year colleges. Here's the full list (currently totaling 276) of players from within the state moving on to the next level.
SPOTLIGHT: 2/13/19
Western New Mexico has been recruiting the state for a while. This year, they've taken it to another level.
The Division II Mustangs, who have 11 players from Arizona on their roster, signed 15 players (14 high school seniors) from the state last week.
For Louis Contreras, the exposure to WNMU began last summer when he attended a camp in Silver City.
"Coach Chris (Martinez) made sure that they knew who I was and after that they stayed in touch," Contreras said in an e-mail interview. "Coach AJ (Justin) and Ace (Justin) reached out to them as well during the season along with other schools, but Western was one of the main ones that stuck around."
Martinez coaches at Coronado and also runs the Arizona Showcase camp and a 7-on-7 team that Contreras played on. The Justins were the head coach (AJ) and offensive coordinator (Ace) for North Canyon, where Contreras played his last two years of high school football.
Contreras, a 6-3, 190-pound quarterback, was offered by Western New Mexico in December and committed in January. He was part of the 39-member class that the Mustangs unveiled on National Signing Day. Contreras likes the location (a five-hour drive from Phoenix) and the way everyone got along during his visit.
"I think the biggest thing that appealed to me about Western is how close the coaching staff is with each other and their players," Contreras said. "It sounds cliche, but it really is a family environment. On my visit at the dinner, (offensive coordinator Paul) Coach Hansen had his family there. My family and I met them and they spoke with my parents like they had known each other for longer than a couple hours."
Contreras started a few games at Millennium during his sophomore year and transferred to NCHS after the football season. Because of AIA rules, he had to sit his first five games as a junior. In a half-season for the Rattlers, Contreras passed for 836 yards and seven touchdowns. He was expecting a full year in 2018, but a foot injury cut his season to just six games. In that limited duty, he still threw for 1,079 yards and nine TDs.
He is a dual-threat quarterback that can keep it (786 career rushing yards), or throw on the run.

Here's a clip of Contreras working with Elev8 QB Academy, and Coach Mike Giovando:

The combination of missing time due to the transfer and injuries was frustrating, along with the Rattlers going 6-14 in that span. Contreras did have support from the coaches and teammates to avoid getting down.
"All I wanted to do was play and be out there competing against the other top quarterbacks in the state," Contreras said. "But, what I love about the coaching staff and team that I had was that they kept me patient and constantly reminded me of who I was and just uplifted me when I would struggle, so I was always ready to play and compete when it came game time."
Contreras is a three-sport athlete that just finished the basketball season (averaging 12.6 points per game). Basketball was the first sport he played growing up. There's no down time for him now, as track is starting up again. That was the first sport Contreras competed in when arriving at North Canyon and he was part of a state championship team, running in the 4 x 800-meter relay. Last year, he competed in the 200, 400, 4 x 400 relay, and threw the javelin.
Hansen is excited that Contreras is running track this spring. He likes his recruits to be mobile and not simply lift and eat to put on weight.
Western New Mexico is coming off an 0-10 season where it only scored more than 20 points twice. The Mustangs compete in the Lone Star Conference. Looking for a complete overhaul in the roster, they recruited a big class complete with three quarterbacks (one is O'Connor's Ethan Moller). So, there will be plenty of competition for reps in practice. It's a challenge Contreras is already preparing for.
"I've been ready to work since I got the offer," Contreras said. "This was the only school to take a chance on me, so I'm grateful and very blessed for that and just ready to work until it's time to get over there. Coach Hansen sends me practices and the workouts to make sure I'm right there with them so I'm as prepared as possible when I get up there to compete and hopefully play in the fall."