Senior Signing Spotlight: Marques White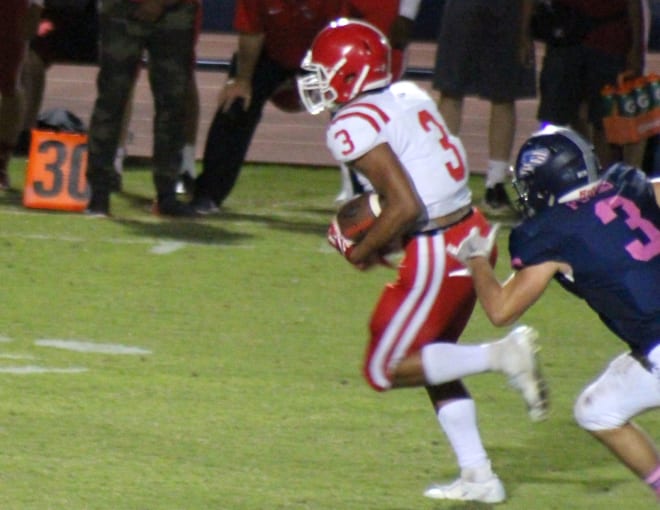 Brophy athlete White looks to keep thriving at Dartmouth
This is the 23rd (and last) in a month-long series of profiles of Arizona high school seniors that signed with four-year colleges. Here's the full list (currently totaling 307) of players from within the state moving moving on to the next level.

SPOTLIGHT: 3/9/19
Marques White will continue his academic and athletic career in the Ivy League at Dartmouth.
The 6-3, 215-pound safety and running back from Brophy College Prep is one of just three Arizona seniors to sign with one of the eight private schools that comprise the Ivy League. The Northeast colleges are considered some of the most prestigious in the world and are consistently ranked among the best in academic excellence.
White selected Dartmouth over Division I offers from Army, South Dakota State, and Southern Utah. He looks forward to his future for the next four years in Hanover, New Hampshire and said the opportunity for one of the best educations in the country was too much to pass up.
"The Ivy League just seems like the perfect fit, especially coming from a school like Brophy that values education before athletics," White said in an e-mail interview. "I still have aspirations of playing in the NFL someday and going to Dartmouth will not only provide me an amazing opportunity to play in the league, but the education that comes with it is compared to none."
White was selected to the Sports360AZ All-Academic Team with his weighted GPA of 3.74. He will be majoring in Engineering.
"I plan on continuing what I have been doing at Brophy right now," White said. "I think that Brophy has given me the necessary tools for me to be ready for the next level at Dartmouth."
In addition to football, White played guard on the Broncos' basketball team. His team offered up their support on National Signing Day.

White made an instant impact at Brophy as a sophomore, recording 66 tackles, intercepting five passes, and being named to the 6A Premier Region First Team. He repeated the all-region honors at defensive back as a junior.
In a move surprising many, White switched over to running back as a senior and had carries in all seven games he played in. It turns out, he had played that position throughout his football life until sophomore year when defensive coordinator Thurman Moore suggested he play safety.
"I love hitting people, so when I was told they needed me at running back, I was more than happy to fill the role," White said.
I saw him play against Perry last October and he was the lone bright spot in the offense that night with 104 yards on 18 carries (plus intercepting a pass). White followed that up a week later in a 28-23 victory over Basha with 160 yards on 29 totes and a touchdown.

Dartmouth is recruiting White as an outside linebacker, so it's back over to the defensive side where he'll make plays for the Big Green.
It wasn't until two weeks into practice that White decided to play basketball again for his senior year. He values the whole Brophy experience - in and out of the classroom.
"The hospitality and love that the Brophy community has given to me has been exceptional," White said. "The rigor of the classes has been a challenge, but it has only made me better, especially learning how to balance my time with the laborious tasks of academics and athletics. Juggling the two definitely took some time to get used to, but with the unlimited resources and help that Brophy offers, it wasn't too difficult."
It was an encouraging ending to White's football career at BCP. The Broncos rebounded from a 1-9 year in 2017 to finish 7-4 and return to the playoffs last season. Brophy had a coaching change in between going from Scooter Molander to Jon Kitna. White felt the difference was the players' wills and their desires to be there.
"It seemed like there was new life this year, especially with a new head coach," White said. "Everyone actually enjoyed the grind and trusted the process. Having a completely new coaching staff coming in required a lot of trust and we were able to buy into what the coaches were saying."
Dartmouth reached its highest ranking in the FCS era when last season ended. The Big Green was ranked at No. 15 by the American Football Coaches Association following a season that produced a 9-1 overall record (6-1 in the Ivy League). Dartmouth had one of the best defenses in the country allowing just 12 points and 79.7 rushing yards per game. Junior cornerback Isiah Swann, an alum of Chandler, led the country with nine interceptions. Swann received the Bushnell Cup as the league's Defensive Player of the Year.
Could the Big Green get major contributions on the D from another Arizona product? White is ready to give his all.
"I'm excited for the next chapter in my life and I just want to thank the whole Brophy community for everything," White said. "Love you Mom and Dad! #BleedGreen"