Senior Signing Spotlight: Zack Gray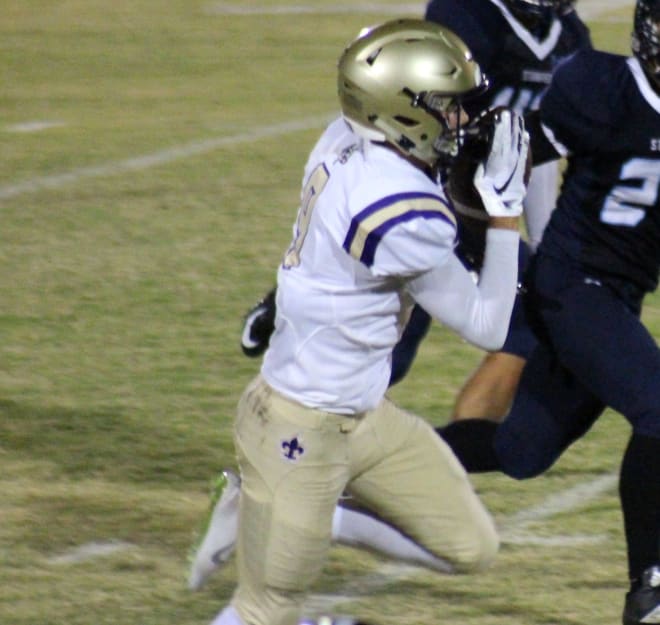 Drake's recruiting efforts for the Notre Dame WR began on social media
This is No. 10 in a month-long series of profiles of Arizona high school seniors that signed with four-year colleges. Here's the full list (currently totaling 285) of players from within the state moving on to the next level.
SPOTLIGHT: 2/19/19
Jake Smith gets a lot of credit of the Notre Dame Prep offense, and rightfully so. The senior had more than 1,800 total yards, scored 39 touchdowns, and was the Gatorade Player of the Year for Arizona.
But today, we're going to look at one of the many unsung heroes for the NDP football team. Senior Zack Gray averaged 19 yards per reception and finished with 646 yards and eight touchdowns. He also caught four two-point conversion attempts to add points to the Saints' total on the scoreboard.
The 2017 Notre Dame team that went to the state title game was a senior-laden one and just two starters returned in '18. Gray was not one of them. He played in just two games his junior year and had three catches.
Drake University in Des Moines was onto him early. The FCS school in Iowa is part of the Pioneer Football League. Brad Pole is the recruiting coordinator, pass game coordinator, and receivers coach for the Bulldogs.
"I first became aware of Drake over the summer heading into my senior year," Gray said in an e-mail interview. "Coach Pole reached out to me on Twitter and our relationship really grew from there."
Drake finished 7-4 last season and 6-2 in the PFL, which was good for second in the conference. The Bulldogs nearly knocked off Iowa State, falling in a close 27-24 battle. Gray said it was the feel of the school that made a big impression on him.
"One thing that I really liked about Drake is that they take the time to not just grow you as a football player, but as a man." Gray said. "They really care about how you develop as a person. Another aspect that really appealed to me was how close the team itself was."
Gray was a First Team All-5A Northeast Valley Region selection. The 6-3, 180-pounder made big plays in the season's first game recording 102 yards on just three catches with a long gain of 53 yards.
He is also accomplished off the field garnering Honorable Mention All-Academic Team honors from Sports360AZ with a 3.93 GPA (3.75 unweighted). Gray plans to study business at Drake.
Gray normally lined up as an outside receiver. He was on the receiving end of pass plays from Jake Farrell that resulted in 40 yards or more in seven different games.
"My favorite part about playing the position is getting the opportunity to make a big play when the ball is thrown," Gray said. "I love those one-on-one battles with the DB and being able to go get the ball no matter if it's high, low, in front, or behind."

Many expected Notre Dame to take a step back with so many pieces to replace, but Gray believes there were a few reasons the Saints were able to reel off another perfect regular season and advance to the 5A state title game. It starts with how close the players were off the field.
"It's a lot easier to go out there and play and have fun with a group of guys that you've gotten to know and love being around every day," Gray said. "This helped us because when we were at practice, we could push each other and create a healthy and competitive environment that paid off for us on Friday nights."
Everyone knew the story of Notre Dame having almost a completely new cast of players and that galvanized the team. They wanted to show that they were a group that still needed to be taken seriously. In the Arizona Varsity preseason poll, the Saints were ranked No. 7 with the five voters casting ballots for NDP ranging from fifth through 10th.

"During the preseason, we were written off by the state as a team who had no experience and because of that, we weren't predicted to make the run that we did," Gray said. "That rubbed our whole team the wrong way, and we wanted to prove that we were better than anybody could have predicted."
Finally, there was the determination to get better. Not on Friday nights, but on the other days of the week leading up to Game Day. The Saints were 3-0 in games decided by less than 10 points.

"A lot of us skill guys stayed and worked an extra 20 to 30 minutes after practice every day to get better running routes and getting our timing down," Gray said. "This ultimately led to us getting better, and helped us to close out tight games."