{{ timeAgo('2021-09-13 19:23:59 -0500') }}
football
Edit
Team AZV Recap: Horizon vs Sunrise Mountain
Led by a three touchdown performance from Senior QB Skyler Partridge (two rushing touchdowns and one passing touchdown) the Horizon Huskies defeated the reigning 5A state champion Sunrise Mountain Mustangs 24-15 on Friday night. The Huskies move to (2-0) on the season, with another big test this week for Head Coach Andy Litten's squad as they travel to Goodyear to play the Desert Edge Scorpions this week.
Impact Players
Horizon 2022 DB Ethan Tinsley (6-0, 170)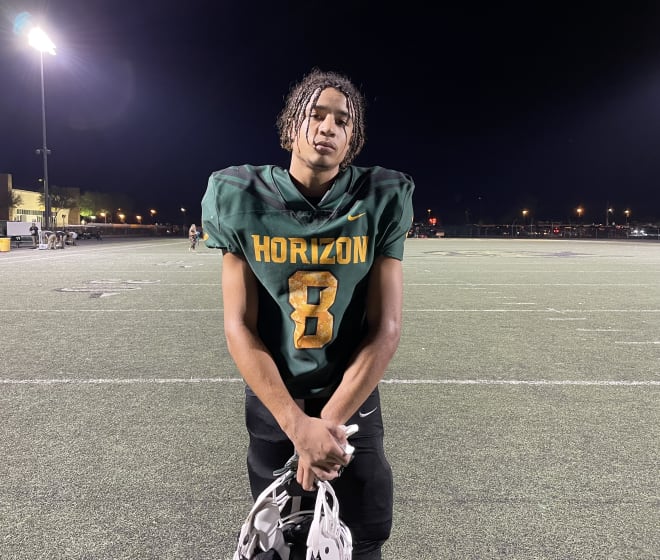 One of the best cover corners that I've seen play this season, Tinsley was phenomenal in man coverage last Friday. Sunrise Mountain took multiple shots on 9-routes throughout the game and Tinsley did a great job of staying over the top and breaking up passes that could have led to monster gains. Tinsley possesses good hips, discipline eyes, and a knack for finding the football at it's highest point. Offensively, the Senior also hauled in a touchdown pass in the first quarter.
Horizon 2023 SS Jack Bodemuller (6-0, 167)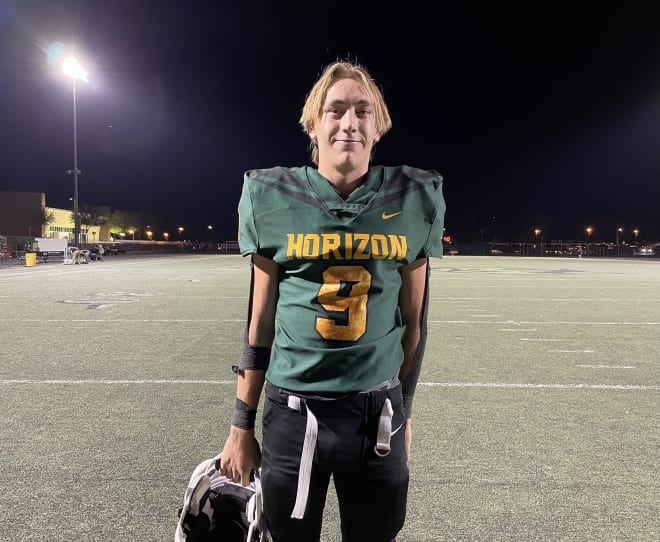 Bodemuller was active around opposing ball carriers as the junior DB racked up 8 total tackles, 7 of them solo, in the big win over the Mustangs. Bodemuller also snagged an interception and broke up a few Sunrise Mountain passes, none bigger than a 4th down out-route which Bodemuller knocked down late in the 4th quarter. Really good football player right here.
Sunrise Mountain 2023 WR Braden Harvey (5-7, 154)
Harvey had another solid performance to open up the season for the Mustangs on Friday night. The junior WR hauled in six catches for 96 yards and also catch a late 4th quarter touchdown. Harvey got inside position on the opposing DB and made a diving catch in the back of the end zone for the Mustang touchdown. Harvey also caught multiple clutch 3rd down passes late in the game.
Sunrise Mountain 2022 LB Andrew Ochoa (5-9, 190) 
Ochoa led the Mustang defense in tackles Friday night. Ochoa registered 11 total tackles, a tackle for a loss, and he also had a big sack in the second quarter that resulted in a Mustang fumble recovery. Ochoa leads the Mustang defense in total tackles this season with a team-high of 15 through two games played.
Who To Watch 
Horizon 2023 RB Wesley Lambert (5-8, 165)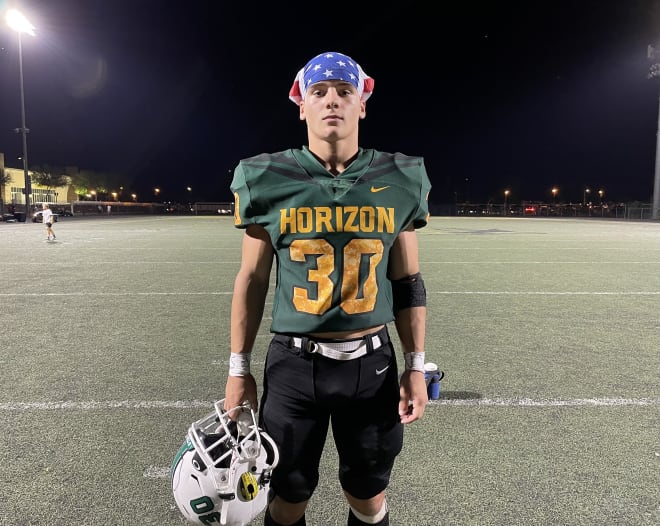 Lambert had another big-game for the Huskies offense. The junior tailback had a game-high 115 yards rushing in the win, averaging a whopping 7.2 yards per carry. Lambert showed tremendous patience following his blocks and letting holes develop. Lambert is a workhorse, his stamina throughout the game never seemed to deteriorate. I would not be surprised to see Lambert eclipse the 1,000 yard rushing mark this season.
Up Next 
(2-0) Liberty @ (1-1) Sunrise Mountain
(2-0) Horizon @ (2-0) Desert Edge