Physical Lions bring experience at QB & OL
Guard Maestas part of Liberty O-Line returning all 5 starters
WEEKLY BLOG: 8/11/19
Quick question: As it relates to scoring, which big-school team (6A, 5A, and 4A) was the closest to a perfect season in 2018?
Three-time 6A champion Chandler lost just once, but it was by 22 points to Corona Centennial out of California in its opener. Centennial ran the table en route to the 5A title, but was blanked in the GEICO Bowl by 17 points to Eastside Catholic out of Washington. Some may call it an exhibition, but postseason games count on your record. Saguaro claimed its sixth straight state title and like the previous two, only lost to an out-of-state team. In the Sabercats' case, it was in Week 2 against Liberty HS out of Henderson, Nev.
Which leads us to another Liberty, this one out of Peoria. The Lions (10-2) took a 7-0 mark into Pinnacle in October and led the Pioneers, 33-14 midway through the third quarter. Spencer Rattler led PHS back with the game's last three touchdowns, and a 34-33 victory. Fast forward to the quarterfinal round of the 6A playoffs, where the Lions were in a slugfest with Highland. Liberty was holding on to a 12-7 advantage with six minutes to play before the Hawks rallied with the go-ahead score. A long field goal at the end would have knotted the score, but the Lions' season ended with a 15-12 defeat.
Yes, they would have had two (maybe three) more games to play to cap "perfection", but the fact remains - Two losses by a total of four points.

They were similar results to the 2017 season, when Liberty was in 5A and went 11-2 losing by just three and five points to city rivals Sunrise Mountain and Centennial, respectively.
There's a lot of programs in the state that would be thrilled with winning records (which Liberty has had in nine of the past 10 seasons) and playoff wins (of which the Lions have 10 during that span). But, that's not what Mark Smith wants his team to settle for.
The mantra for this year is L.N.D. It stands for Leave No Doubt. The heartbreaking November losses the past two seasons are motivation for Liberty's second year in 6A. It's also a team that should remember them well, because they were there. A photo of the Lions' seniors at Camp Tontozona in Payson last month shows 40 seniors.
"I like that we have a lot of seniors," Smith, who is starting his fifth year at the helm, said. "There's some good senior leadership. Anytime you can start a returning quarterback and an offensive line that returns all five, that's a good reason to be excited."
Jonah Guevara returns at the QB position, where he passed for 1,557 yards and 11 touchdowns in nine games. A 6-2, 165-pound senior dual threat, he rushed for 466 yards (7.6 yards per carry) and nine touchdowns.
"He's electric with his legs," Smith said. "He's a strider. He can make all the throws we need him to make."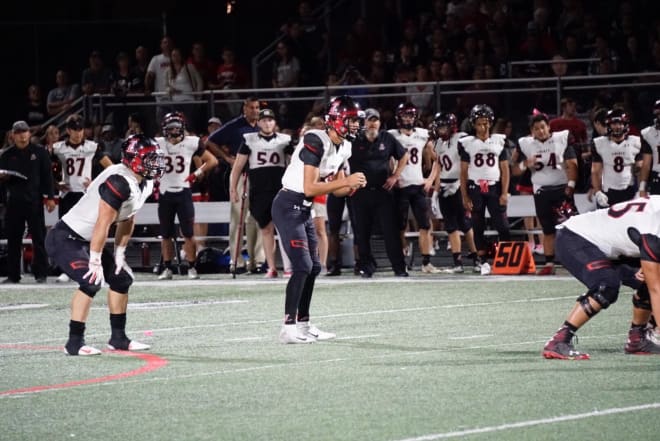 Liberty's offense was as balanced as you could possibly have last year. The Lions amassed 2,351 yards on the ground and 2,336 through the air (390 total yards/game).
And the Lions don't just return one QB, they bring back two. Junior Brock Mast threw passes in seven games, including three starts late in the year when Guevara was injured. In those three games, Mast completed 76 percent of his passes for 648 yards and eight TDs. LHS also took the W in each of them.
It's at the other skill positions that newcomers will have to emerge for the Lions to pile up points like they did last year (38.5 ppg). The top three running backs have graduated along with the top four receivers.
Liberty runs a multiple spread offense and the stable of running backs includes Jace Accurso, Joe Forney, and Isaiah Pittman. At wide receiver, Jaiden Pina and Gavin Guy are both seniors and should see many more opportunities than last year, when they were backups.
In the NFL, offensive lines that stay together develop a consistency from working together. It's rare for it to happen in high school, but the Lions bring back all five starters from last year and they're all seniors. Tackles Temoc Sandoval and Jared Crean combine with guards Frank Thompson (an Arizona State commit) and Vincente Maestas along with center Brian Dean to make an experienced formidable unit.
That group, along with the defensive linemen, flexed their muscles in May and June bringing home first place trophies in all five competitions against fellow schools. Liberty took the Corey Peters lineman challenge, plus big man competitions at Arizona Christian, Arizona State, and Northern Arizona, along with the 30-team West Side Universal Athletic big man.
"Our offensive line coach (Shawn Gloden) has been in our program for a full year," Smith said. "These kids have bought in. Our strength coach and defensive line coach (Brian Cherry) does an excellent job in the weight room. Our kids are physical and strong."
The Lions use an odd front with a 3-4 defense. Liberty has returning players at all three levels of the D.
Senior nose guard Grant Collins had five sacks last season. Pittman and Accurso are also defensive players at linebacker. Accurso had 60 tackles for the Lions with 3.5 sacks. Jax Stam had tackles in 11 games as a freshman last year. In addition to his 59 tackles, the safety had three interceptions.
Last Friday brought Liberty's annual Black and Red scrimmage. That will be followed this Thursday night with a scrimmage at home against Basha (7 pm).
Much like NFL exhibitions, it's a chance to provide reps for players, evaluate position battles, and see how they react before the lights get brighter.
"When you play your own team, you want to see execution and everybody get out of there healthy," Smith said. "This week (against Basha), it's to see how we match up physically."
The schedule includes seven playoff teams, including a trip to Las Vegas to face Liberty (the one that beat Saguaro last year). It starts with Brophy on Aug. 23 at Phoenix College, and continues with games against Sunrise Mountain, Desert Ridge, Boulder Creek, Pinnacle, and Chaparral. The season-ender against Chaparral will be broadcasted by YurView Arizona on Nov. 1.
It's a lot to contend with, but Smith said he is solely focused on "the next game", which is against Brophy. Last year, calling it a defensive battle would be an understatement. Liberty defeated the Broncos, 7-0.
One area the Lions would like to duplicate is in the turnover battle. Liberty was +16 overall with 28 takeaways (20 interceptions and eight fumbles). It is along those lines that Smith said the team needs to execute to have both offensive and defensive success in 2019.
"You've got to take care of the football and you've got to get the drive started," Smith said. "On defense, you want to take the ball away and get off the field."