Senior Signing Spotlight: Tashumbrae Brown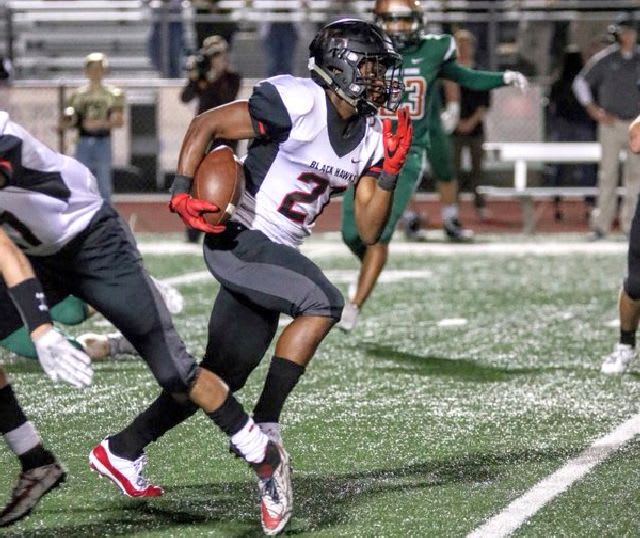 Relationship key for Williams Field CB Brown's decision to go to Colorado Mesa
This is No. 4 in a month-long series of profiles of Arizona high school seniors that signed with four-year colleges. Here's the full list (currently totaling 273) of players from within the state moving on to the next level.
SPOTLIGHT: 2/11/19
Remember the Spring practice showcase events last May? One of those was at Red Mountain HS in Mesa and teams from Williams Field, Queen Creek, and Casteel practiced at the same time as the Mountain Lions. The concept of it was to allow college coaches to see a number of players without having to make multiple stops.
It paid off in the recruitment of Tashumbrae Brown.
The showcase was among his first activities with Williams Field after moving to Arizona from San Marcos, Texas (in April). Brown met Colorado Mesa defensive backs coach Michael Donnelly at the event and correspondence with the former CMU player began the next day.
"I received an email from Coach Donnelly saying he was impressed with my performance and would stay in contact as the season began," Brown said in an e-mail interview. "And he did. Over time, that relationship grew and the foundation was set. I could tell that he really wanted me to be a part of the CMU family."
Brown, who also goes by 'Scooter', wasn't offered by Colorado Mesa until Jan. 11. He also had Division II offers from CSU-Pueblo, Eastern New Mexico, Western Colorado, and Western New Mexico, plus a few preferred walk-on offers from Division I schools. He committed to the Mavericks last Tuesday and signed a National Letter of Intent the following day.
He visited the school in Grand Junction and called it an amazing place.
"When you say Colorado, most people think of heavy snow and miserable days," Brown said. "That is false. The scene up there is unbelievable. I fell in love instantly and the fact that Grand Junction (population 62,000) supports the football team made the decision a no-brainer."
Standing just 5-9 and 180 pounds, playing cornerback and going man-to-man against taller receivers can seem like a disadvantage. Brown was always taught that what counts when you get in between the lines on the field is heart.
"I live by the term heart over height," Brown said. "I knew that my technique would put me in the proper position to make plays. All that was left was for that dog to come out, and when it came out, there was no stopping me."
There was no secondary in the state more feared than the one at Williams Field. The group of Brown, Noa Pola-Gates (signed with Nebraska), Jadon Pearson (signed with Air Force), and Shamar Hawkins, who are all seniors, combined to make 15 of the Black Hawks' 22 interceptions last season. That total led all of 5A.
"We all wanted to get better every day," Brown said. "We never envied each other. Everything we did was a competition. We had each other's backs more than our own spines and when Coach (defensive coordinator Kelvin) Hunt got us right, there was no looking back."
So, teams had to pick their poison if they wanted to throw against WFHS. When they opted to target Brown, it was usually a losing proposition. Teams threw his way 36 times and had the pass broken up 19 times. Four of them were picked off. Of the 13 that were caught by the receivers (36 percent of passes), they only accounted for 68 total yards.
Brown was named by Arizona Varsity as its 5A Cornerback of the Year.

I saw this group in action in Week 11 against Higley, who has a quarterback that is going on to the Pac-12. The Black Hawks limited him to 8-of-25 passing for 97 yards. The Knights had two touchdown passes, but were also intercepted twice. The end result was a dominating 51-14 victory to clinch the 5A San Tan Region.
In addition to his work on defense, Brown was valuable on special teams. He averaged 21 yards per kickoff return and 14 yards on punt runbacks. The photo at the top of the page is of a 48-yard punt return at Campo Verde.
Colorado Mesa plays in the Rocky Mountain Athletic Conference (Division II). The Mavericks finished 7-4 last season (6-4 in RMAC play), ending the year with a three-game win streak.
In between seasons, Brown has attended a National Underclassman Camp (where he earned defensive MVP), a Rivals camp in Dallas, a regional for The Opening in Texas, and played for USA Football on the U-17 Team in the International Bowl. Brown encourages players that feel they may be getting overlooked due to height, or anything else, to be active in the game when it's not Friday night under the lights.
"I would like to say to all future recruits to get as much exposure as possible," Brown said. "Go to those camps and make a name for yourself. Don't wait on someone to give you something. Go create your own. And last, but not least, don't let politics control what you have going on for yourself. Stay humble and hungry."